Here's What Military Veterans Think About Donald Trump and His "Hero" Comments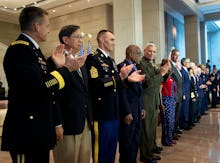 Following some weekend comments disparaging Arizona Senator John McCain's wartime service, United States' veterans are responding to billionaire real estate magnate and presidential frontrunner Donald Trump.
Mic spoke to a number of veterans to sample their opinions of the controversy, and found wide general consensus surrounding Trump's buffoonery as well as introspection about what makes a true hero. 
The story began during a Saturday meeting of the Family Leadership Summit in Ames, Iowa, when Trump disparaged McCain, who spent five years in a prisoner-of-war camp during the Vietnam War. Trump questioned McCain's status as a hero, telling the audience, "He's a war hero because he was captured. I like people who weren't captured." McCain previously angered Trump by referring to his supporters as "crazies."
"Donald Trump had no right to say that. Period," Ned Foote, who served in Vietnam with the Marines and is currently president of the New York State Vietnam Veterans of America, told Mic. Foote added he believed the word "hero" had become abused in recent years. "Hero is being overused which really takes the real meaning out of who is a hero," he said. 
Dan Stenvold, by contrast, took a firmer line. "I don't think Donald Trump has too many live brain cells between his ears to make a statement like that," he told Mic, laughing over the phone. "He doesn't know what he's talking about because he never served." 
Stenvold, who served in the U.S. Army in Vietnam and is currently president of the North Dakota Vietnam Veterans of America, said McCain was absolutely a hero. "They tortured that man."
Retired Master Sgt. Peter Garcia was blunter still. "In my opinion, Donald Trump is a draft-dodging piece of shit and does not have the right to comment on McCain's service," he said. Garcia served in Kuwait during the first Gulf War and said there was nothing more difficult than leaving your family to fight. "I respect any man who has made the decision to serve when needed. When Trump had the opportunity to make that decision, you see which way he went."
On Monday, CNN interviewed two former prisoners of war who were housed with McCain during the Vietnam war.
"We were in uniform to protect Donald Trump's right to free speech," Captain Charlie Plumb said during the segment. "If it hadn't been for men and women in uniforms, if we'd all gotten deferments in college, there'd be no opportunity to be a billionaire in the United States." 
If Trump's latest comments accomplish nothing else, they do redirect the political conversation toward an issue where everyone can agree there is considerable room for improvement: veteran's affairs. 
There are approximately 21.8 million veterans in the United States. Many suffer debilitating physical injuries from their service receive substandard care when they return home. In 2014, a CNN investigation found dozens of veterans died awaiting treatment from the Phoenix Veterans Affairs health care system. The scandal turned out to be far larger than Phoenix and ultimately forced VA Secretary Eric Shinseki to resign. 
Many veterans, especially those suffering from psychological conditions like post-traumatic stress disorder, also often have trouble reintegrating into civilian life. Today, veterans are more likely to be unemployed than the overall civilian population, while roughly 50,000 are homeless. And in 2012, more active-duty soldiers committed suicide than died in combat, the Guardian reported.  
"I went to 14 funerals of friends last year, all from suicide," Operation Iraqi Freedom veteran Zollie Goodman told Mic. "There is no honor in war as much, as people want to propagate it and sell it."  
With Trump, however, continuing to double down on his patented "never explain; never apologize" politics, the country is likely in store for some more fireworks during the first Republican debate, currently scheduled for August 6.