The Bill Cosby Rape Scandal and the Truth About Mentor Abuse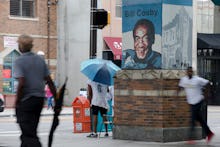 Rape is not about sex, it's about power. Bill Cosby couldn't make that clearer.
The latest round of leaked documents from Cosby's 2005 court case brought by plaintiff Andrea Constand, a former Temple University basketball manager, contains a set of disturbing admissions from the media mogul. In addition to admitting to purchasing drugs to give to young women in order to have sex with them, Cosby "painted his relationship with Ms. Constand as one of mentor and mentee, casting himself in the role of an experienced guide and offering her the benefit of his contacts, fame and experience," the New York Times reports.
The allegations against Cosby date back to the 1970s, when he was arguably one of the most important figures in show business. Many of the women who have accused Cosby of drugging and raping them had a professional relationship with him or were otherwise also in the business — something Cosby used to his advantage. As the New York Times reports, Cosby "presented himself in the deposition as an unapologetic, cavalier playboy, someone who used a combination of fame, apparent concern and powerful sedatives in a calculated pursuit of young women."
Cosby is not the first man in media to be accused of abusing his power. The power dynamics in this case are reminiscent of those surrounding Canadian radio broadcast star Jian Ghomeshi, for example, who faces multiple sexual assault allegations from women with whom he had professional ties. Some of Ghomeshi's alleged victims were fellow employees at the CBC or those wanted to work in media. Earlier this month, Guardian contributor Rebecca Carroll wrote about her experience with sexual assault with a mentor in the broadcast industry when she was a teenager. The man, whom she calls "Bill," promised her an internship, as well as meetings with networks, which never happened.
The abuse of power in mentor relationships extends well beyond media, and can affect women in a variety of fields.
STEM: One 2014 study found that women were 3.5 times more likely to report sexual harassment over men. While men in the study also reported harassment, "for the women, the violation came down the chain of command: Nearly 50% reported assault by superiors in rank." 
Academia: A recent, highly publicized case brought attention to common harassment in academia. In February, former Stanford undergraduate student Elise Clougherty alleged that Joseph Lonsdale, an influential member of Silicon Valley, "took advantage of his position as [her] mentor in a Stanford mentorship program to physically, emotionally and sexually abuse her."
Politics: Even the halls of the nation's capital aren't free from abuses of power. The National Journal recently reported that many congressmen refuse to be alone with female staffers in order to avoid accusations of inappropriate behavior — a rule that may result in women missing out on opportunities. "The rule was meant to protect me and him, but it still felt unfair," one anonymous staffer said, according to the National Journal.
Sports: Abuse is frequent in the sports world too. Macy* was repeatedly raped by her mentor and swimming coach beginning at age 14, but was reluctant to come forward due to fear of repercussions for her future.
"He made me feel like I owed him — and I, at the time, I would lose the care and help of this person if I didn't go along with him," she told Mic. Even after the coach pleaded guilty and went to jail in 2008, Macy struggled with feelings of self-doubt as parents and members of her community came to his defense. It took years to breathe easier. "Justice makes such a difference towards recovery," she said.
Justice, however, is rare. Most women choose not to come forward with sexual harassment allegations because doing so comes with costs — and not just the high fees associated with going to court. Women who report any kind of sexual harassment or abuse are often re-victimized by the court of public opinion. Some of Ghomeshi's alleged victims reported not coming forward due to fear of character assassination, for example.
Seeking out exclusively female mentors is not a realistic solution. "If you're a woman and you're only considering other women as mentors, you're automatically limiting access, especially in STEM areas where we often don't see women as high in the organization as they could be," Pamela McCauley, a professor of the Department of Industrial Engineering and Management Systems at the University of Central Florida in Orlando, told Fast Company.
As the New York Times' Emily Bazelon points out, "men hold 60 to 70% of the jobs at major tech firms, and almost half of tech companies have no female executives at all." That leaves few options for women seeking specifically female mentorship.
Thankfully, there are advocates dedicated to changing that. Companies like Glassbreakers, a platform for women to find female mentors, aims to help women safely navigate professional relationship-building. But until there are more women in senior positions, the pool of female mentors remains small — a reality that can burden women in leadership. Glassbreakers cofounder Eileen Carey told Mic that "female bosses have to mentor their junior peers," and that puts "this huge burden on the senior women in companies and eats up a ton of their time." 
Ultimately, it's not up to women to avoid the abuse of men in power. It is up to the public to recognize that this happens, and support those women who call it out.
*Name has been changed to preserve anonymity.