Meet the Rapper Keeping #BlackLivesMatter Alive By Releasing Music From Prison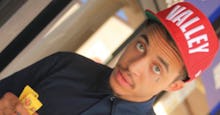 The world has tried to forget Richie Reseda. 
Four years ago, the 23-year-old activist, entrepreneur and rapper entered the California prison pipeline to serve time for a robbery he committed as a teenager. The son of white mother and a black father, Reseda told Mic that his 19-year-old self was a "fake-ass gangbanger and a fake-ass feminist," and that he used to pride himself on his ability to "kick it with the social justice folks and talk that stuff, and kick it with the homies and talk gang stuff." He was speaking from a prison in California. 
Reseda asked Mic not to publish the facility's name, saying the last time a publication did, authorities raided his cell looking for phones and recording devices. Reseda has none — but he has been recording and releasing new music from behind bars. With the help of the #BlackLivesMatter network and the label GREEDY City, his messages are now reaching the world. 
Last month, Reseda released his first single, "28 Hours." The track offers an incisive view of police brutality, the destructive realities of gang life and the disturbing similarities between the two cultures. It's a first taste of his upcoming album, whose title summarizes his situation as well as the message of much of the #BlackLivesMatter movement as a whole: Forgotten But Not Gone.
His method: Reseda began working on the songs in 2011, before his arrest. But it wasn't until his friend and producer Damon Turner, a self-proclaimed "cultural architect" at GREEDY City, came to visit him in 2013 that they decided to pick the songs back up and try to finish them.
The two had met previously at an open mic in Los Angeles. "[Reseda] had this light, especially when I heard his poetry, speaking about the prison industrial complex, gang culture," Turner told Mic. "He was using his platform to talk all those issues, and I was like 'Oh my god.' His analysis was crazy even then."
Reseda wrote up a track list, and Turner found all the unfinished projects, which were held by different people in Reseda's past. Then, using the prison's phone system, Reseda spit some new verses with updated lyrics to reflect recent events while Turner recorded. On "28 Hours" he raps about the deaths of Renisha McBride, Eric Garner and Trayvon Martin, which all occurred while Reseda was in prison.
Source: Soundcloud
His message: Reseda's album will run the gamut from criticizing police brutality and reworking his previously "fake-ass feminism" to offering a serious critique of the patriarchy and transphobic and homophobic attitudes. The mentality in which men feel entitled to destroy or dominate anything they perceive to be weaker than they are is deeply flawed, he told Mic. 
"The idea is certainly at the center of the gangbanging and what's happening in the streets of Los Angeles and the violence around the world, as well as being at the center of this system right here." 
"28 Hours" unpacks that idea. It references a disputed statistic that says every 28 hours, a black person is killed by police or a vigilante hate crime — PolitiFact has debunked that specific claim, but the idea remains a popular refrain among activists. "Suicide, genocide at the same time," raps Reseda. "No one's on my side so I throw up gang signs. Red and blue lights, yeah, they flashing signs too. / That's the biggest gang on Earth who pulled up right behind you."
His experience: In constructing his messages, Reseda draws from his experiences participating in LA's gang culture and its activism community. He was introduced to gang culture early. And it wasn't until he was 14 when he met Patrisse Cullors, founder of Dignity and Power Now and co-founder of #BlackLivesMatter, and Mark-Anthony Johnson, current director of health and wellness at Dignity and Power Now, that he got involved in social justice. Cullors and Johnson came to talk to the students about mass incarceration and the school-to-prison pipeline, which is terrifyingly active around Los Angeles.
"I remember Mark-Anthony writing on the board 'mass incarceration' and being like 'Do you know what this is?'" Reseda recalled. "We were like, 'No.' He just started going in, explaining to us the school-to-prison pipeline, and how we have a higher rate of going to prison than we do of going to college." 
It was an eye-opening experience for Reseda, who dove into that world, organizing with Cullors at Labor Community Strategy Center. Yet he saw issues. "I realized there was a disconnect in the organizing, social justice part of LA and the people they were fighting for: these young black and Latinos on the other side of LA that was really more caught up in gangbanging and drugs and that whole thing."
He sees music as the solution: "If we could get hip-hop where we could include being culturally aware and connected to the community with regular swag, young folks of color swag... Man, we could get out of this destructive cycle, seeding the [prison-industrial complex] with our bodies, and stop killing each other and really get on some revolutionary type shit." 
The movement: #BlackLivesMatter agreed to sponsor Reseda's project because its leaders believe his story needs to be heard. "He is navigating some of the most oppressive conditions that exist at our current historical moment," Cullors told Mic. "I think he's an important part of the broader conversation surrounding #BlackLivesMatter. You have to remember, 1 million black people are living inside of jails and prison, and their lives matter too."
To that end, Reseda has been working to build resources to help prisoners find ways to reintegrate after their release. He founded Success Stories, an organization dedicated to rehabilitating criminals to prevent them from sliding back into gang life when they leave prison. 
"If somebody's committed to full-fledged gang life, you can't just pull the rug from under them without replacing it with something else," Reseda told Mic. Success Stories encourages prisoners to confront the decisions that got them to where they are today, before them teaching new skills such as how to write business plans and use crowdfunding sites.
Crowdfunding has had an immeasurable affect on Reseda's life. When he found himself facing 150 years to life, charged with the robbery of three Rite Aids and a series of unexpected additional charges with only an apathetic public defender as his lawyer, Cullors and Reseda's community managed to crowdsource $10,000 — a challenge captured in part on Reseda's Tumblr — to hire a private attorney lawyer. Reseda had to plead guilty to get his sentence down to 10 years. 
It's a blessing Reseda is thankful for every day. He has a future, and he doesn't plan to waste it. When he gets out in four and a half years, he plans to start a media company called Question Culture that will produce media dedicated to challenging "violent and patriarchal and racist cultures."
"We live in an extremely violent culture, and we have a extremely violent media," he told Mic. "I want to make media that's just as mainstream, just as marketable, just as popular but that challenges those narratives, even in the subtlest of ways."
He's starting with Forgotten Not Gone. "This whole type of hip-hop," Reseda says, "that pushes the envelope, talking about current events and using hip-hop to improve the community, has been forgotten, but it's not gone."