Democrats Are Preparing to Introduce a Historic LGBT Civil Rights Bill in Congress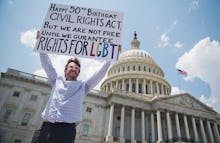 Democrats in the House and Senate are preparing to introduce legislation that would offer LGBT Americans sweeping protections previously denied to them under federal law. The bill, known as the Equality Act and set to be unveiled Thursday, would outlaw discrimination in a series of public settings, including the job market and institutes of higher education.
"Every day, millions of LGBT Americans face the danger of real discrimination and sometimes even violence because of their sexual orientation or gender identity," Rep. David Cicilline, a Rhode Island Democrat, wrote in a letter to congressional colleagues obtained Monday by the Washington Blade. "In most states, a same-sex couple can get married on Saturday, post pictures on Facebook on Sunday and then risk being fired from their job or kicked out of their apartment on Monday."
The bill: The Equality Act would represent the most robust expansion of protected classes since the Civil Rights Act of 1964. Discussions about using the amendment process to add to that wide-ranging law were dismissed by activists and legislators, citing concerns over potential interference by conservative lawmakers seeking to hollow out the measure.
Instead, the Advocate reports Sen. Jeff Merkley (D-Ore.), along with cosponsors Sen. Cory Booker (D-N.J) and Sen. Tammy Baldwin (D-Wis.) will submit a bill in the Senate, delivering on a promise Merkley made in December 2014, when he told the liberal Center for American Progress he would use this session to push for "across the board protections" for the LGBT community.
"Americans would be shocked to realize how much discrimination is still legal in our nation today," Merkley said in a statement last year. "It's time for a comprehensive federal nondiscrimination act that will guarantee equality to every LGBT American."
What's at stake: This marks the second time in four months Cicilline and House Democrats have sought to use their legislative powers to undercut growing support for "religious freedom" laws. The most notable case, in Indiana, came when Republican Gov. Mike Pence successfully pushed for and signed a statewide "Religious Freedom Restoration Act," which allowed business to deny services to patrons on religious grounds. 
Unlike the federal version and those passed in 19 other states, Indiana's did not include, nor does its constitution guarantee, anti-LGBT discrimination protections. The state was inundated by protests and major corporate boycotts, eventually leading to a "fix" that added more explicit safeguards.
Despite the uproar in Indiana, federal legislators have pushed forward pursuing similar measures. The so-called First Amendment Defense Act, a reaction to the Supreme Court's June decision to legalize same-sex marriage in all 50 states, is now moving through Congress. The bill would ban the federal government from taking "any discriminatory action against a person, wholly or partially on the basis that such person believes or acts in accordance with a religious belief or moral conviction that marriage is or should be recognized as the union of one man and one woman."
Critics, like those on the Los Angeles Times editorial board, say the bill would give a convenient legal loophole to those seeking to deny rights to LGBT Americans. Citing research from the American Civil Liberties Union, the Los Angeles Times argues its passage "would allow federal employees with objections to same-sex marriage to refuse to process tax returns or Social Security checks for gay couples."
Progress: Last week, the U.S. Equal Opportunity Employment Commission delivered another blow to the anti-LGBT rights lobby, issuing a narrow decision stating "allegations of discrimination on the basis of sexual orientation necessarily state a claim of discrimination on the basis of sex." This interpretation of pre-existing law effectively made employment discrimination based on sexual orientation illegal.
But the commission's decision is not binding and could be overturned by another vote by commissioners appointed by under a less supportive administration. Legislation like the Employment Non-Discrimination Act, a lesser version of the bill, has been held up in Congress for the better part of two decades. 
Cicilline and Merkley, in pushing their legislation, are aiming for a more permanent protections for LGBT Americans who have sought credit from banks, access to properly funded schools, fairness in the job application process, protection from discrimination in the housing market and access to all public accommodations, like a pizza place, without the threat or fear of discrimination.