In One Devastating Quote, Dave Chappelle Says What Other Celebrities Won't About Activism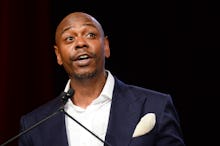 Dave Chappelle was honored Saturday at Russell Simmons' Rush Philanthropic Arts Foundation benefit in Bridgehampton, New York. 
During his acceptance speech, the 41-year-old comedian addressed an issue many in his profession have shied away from: his responsibility as an artist in a time of social and political strife.
Speaking to the persistent phenomenon of young black men and women being killed and brutalized by police in the United States, Chappelle made it clear that he will not remain silent on the topic:
"The biggest enemy of an artist is apathy," Chappelle said, according to the Associated Press. "A kid gets killed by the police and I buy a T-shirt and before I can wear that one, there's another kid [killed] and I'm running out of closet space."
The T-shirt metaphor is a sobering way to illustrate the frequency of this pattern. From Michael Brown in Ferguson, Missouri, to Sandra Bland in Waller County, Texas, the deluge of young black people who have died at the hands of the state or in state custody over the past year speaks to the unending salience of anti-black violence in this country.
The role of entertainers in addressing these topics is increasingly subject to debate. In recent months, comedians like Jerry Seinfeld have shied away from embracing the potential responsibilities that come with such a high profile.
Chappelle, on the other hand, has not only embraced these responsibilities, but also clearly identified himself as having an activist mindset. Being sociopolitically astute is not necessarily in a comedian's job description. But as the criticism of Seinfeld and Amy Schumer indicates, viewers today are less tolerant of entertainers who fail to acknowledge the intersecting complexities of racial and sexual politics.
For Chappelle, this is nothing new: Chappelle's humor has always been explicitly political. His program Chappelle's Show, which aired on Comedy Central from 2003-2006, thrived through its irreverent approach to American race relations. The comedian also famously walked away from completing a third season because of personal anxieties, in part precipitated by discomfort with how the show's racial humor was being interpreted by white viewers.
So his address to the Rush event's audience comes amid a comeback to standup comedy, of sorts. Chappelle has been touring intermittently for the past year, often to mixed reactions.
Yet the power of his brand of humor is still not lost on him. "I think it is important to be out [giving shows] now, but what's going on in the world isn't why I initially came back out," he told the AP. "This is a very surprisingly emotionally charged time, so people like me, I think, are very relevant and necessary in sorting through all this information and emotional content."
"And when we are at our best, hopefully we are doing a great service to many people."