19 Gorgeous Instagram Photos Prove We Need to #BringCurvyBack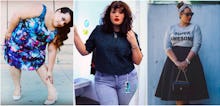 When one hashtag gets banned, dozens more pop up to take its place. Take away #Curvy? Get ready for #BringCurvyBack.
Body-positive bloggers weren't going to let Instagram's ban of #Curvy deter them from celebrating plus-size women and fashion. First came #curvee to get around the ban, which was apparently instituted last week. In the days since, the response has grown into another hashtag with a call to action: #BringCurvyBack, and its cousin #BringBackCurvy. 
As BuzzFeed reported, Instagram banned #Curvy to prevent the nudity that the company said are often tagged with the term. Instagram said that according to their policy, it's not a word or its definition that drives the decision to ban a hashtag, a representative told Re/code. Rather, it's the amount of "inappropriate" photos that surface when searching for a hashtag that condemn a term.
"In this case, #Curvy was consistently being used to share content that violates our guidelines around nudity," a spokesperson told Re/code.
That answer hasn't sat well with users who point out that hashtags like #thin and #skinny are still searchable, according to Today.
"Why is it OK to see an almost naked straight-size model in a photo and not a curvy model?" Jenny McQuaile, director of an upcoming documentary Straight/Curve, about plus-size fashion, told Today. "Why is the female body in its very natural form so offensive?" 
It's not the first time Instagram has come under fire for regulating the female body in ways some users claim are arbitrary. Women have had their photos deleted (we see you, topless Chrissy Teigen), and their entire accounts banned (one woman celebrating her stretch marks found herself kicked off the app).
But as users continue posting photos of themselves on Instagram, one thing is clear: Hashtag bans be dammed, women will find a way to celebrate their curves with the world. Check out the stunning photos from the hashtags that celebrate, not violate.