Watch Laverne Cox Talk About Caitlyn Jenner's Public Transition on 'The Late Late Show'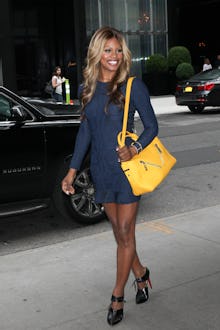 Laverne Cox and Caitlyn Jenner have been close allies during the latter celebrity's coming out process. On Monday's episode of The Late Late Show With James Corden, Cox took her support even further.
In an interview with Cox and Mad Men's Christina Hendricks, host James Corden asked the actress and trans activist for her thoughts on Jenner's recent speech at the ESPYs. Cox's answer was smart and emphasized the importance of both of their narratives in the media.
"When I think about transitioning in my 20s as a black transgender woman who was working class and struggling to make it in New York City, it's completely different from Caitlyn's very public experience," Cox told Corden. She further drew a distinction talking about Jenner's life in the public spotlight.
"There's no way she could have transitioned privately," Cox continued. "But I think she's doing it very eloquently and beautifully publicly."
Since Jenner came out, Cox (and to a lesser extent, her friend Janet Mock) has been expected to be something of an expert on the athlete's transition. Her initial statement after Jenner's Vanity Fair cover set a tone of celebration while urging that there's work to be done. In nearly every media appearance since, she's been asked about Jenner.
Cox has handled all of this with grace. She generously answers each question and remains friendly with Jenner on social media. They even met in person Sunday at a screening of Jenner's new show I Am Cait.
Cox is a fascinating woman who has turned a minor role on Orange Is the New Black into a strong career and boosted her profile. She is, along with Jenner, the most recognizable trans person in the country. She has inspired, and will continue to inspire, trans people across the country. Her narrative is as vital as Jenner's, and as she said, to have their twin stories in the media at once is incredible.
Watch the full clip below.