Miley Cyrus Announces She's Hosting the VMAs in the Best Way Possible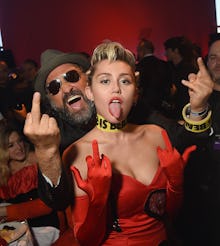 If Kim Kardashian broke the Internet with her nude cover shoot for Paper, then Miley Cyrus broke the MTV Video Music Awards in 2013 when she twerked her way through Bangerz, the album that catapulted her directly onto Robin Thicke's hips.
Now, the "Wrecking Ball" singer took to social media Monday afternoon to announce she would be attending the VMAs again this year; but this time, she won't be performing — she'll be hosting.
Cyrus brought down the house at last year's VMAs with a sentimental acceptance speech for video of the year  when she invited a homeless teenager named Jesse to accept the award on her behalf and bring awareness to a homeless shelter for young people in Los Angeles called My Friends' Place.
"My name is Jesse and I am accepting this award on behalf of the 1.6 million runaways and homeless youth in the United States who are starving, lost and scared for their lives right now. I know this because I am one of these people," he said.
Cyrus has been passionate and vocal on social media about her work with the Happy Hippie Foundation, an organization she helped create that "rallies young people to fight injustice," according to the site. It seems fitting Cyrus will take time out of the awards show to raise awareness for some of the social issues her organization focuses on, including gender identity, homeless youth and fighting discrimination against the LGBT community.
But we're hoping to see some twerking too.