Appton Founder Faigy Mayer Dead at 30 After Apparent Suicide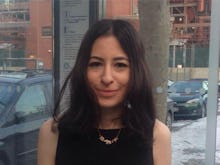 Thirty-year-old entrepreneur Faigy Mayer jumped to her death Sunday evening from the rooftop of 230 Fifth, a New York City bar, according to the New York Post.
Witnesses reportedly said the founder and CEO of Appton, a mobile and web-solutions startup, ran through an ongoing party at the rooftop bar, climbed a ledge of the roof's ledge lined by shrubbery, and fell 20 floors at approximately 7:30 p.m. 
The Chief Medical Examiner's office of New York tells Mic Mayer's death is officially being considered a suicide. Onlookers told the New York Post the rooftop bar's ledge is unsecured and there is little security to protect guests from falling.
Mayer, whom police identified from the backpack and purse she left behind, died at the scene, while bar patrons were reportedly unaware of the death and continued drinking while police sectioned off the ledge.
Mayer had a Master's degree in accounting, a certificate in data science specialization from Johns Hopkins University and a list of apps she created that point to her burgeoning career in the tech industry. 
Some friends who have been mourning the loss on social media say Mayer spoke of having depression:
Mayer was the focus of a National Geographic documentary about the Hasidic Jewish lifestyle in New York and her struggles breaking free from the community. In the documentary, Mayer describes life after departing from the cultural norms and practices her religious community, and smiles when describing an organization she works for that assists anyone wishing to leave the community and adjust to secular life. 
Mayer enters the piece at the 16-minute mark and describes the transition from Hasidism as a very challenging emotional experience. 
As Business Insider notes, Mayer is actually one in a string of startup CEOs who have committed suicide, and, in fact, the rates for mental health disorders in entrepreneurs is quite high, according to a study by clinical professor Dr. Michael Freeman of the University of California San Francisco. Of the 242 entrepreneurs Freeman surveyed, 49% reported mental health conditions, with depression being the most common. The CDC reports only 7% of the nation suffer from depression. 
According to her LinkedIn page, Mayer was a "startup founder and an iOS developer looking to apply my expertise in iOS app development, social media strategy and public speaking."
Mayer also stated in her summary she was willing to move to Berlin or California for her work.
Need help? In the U.S., call 1-800-273-8255 for the National Suicide Prevention Lifeline.