This 20-Year-Old Made History With These Bikinis — and Fashion Designers Should Take Note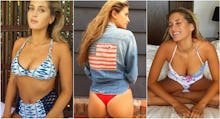 With long blonde hair and a leggy physique, Francesca Aiello might have been mistaken for one of the models who preceded her when she walked down the runway at the W South Beach as part of Miami Swim Week on Saturday night. But the 20-year-old has put in the hard work to garner another title: fashion designer.
The Frankie's Bikinis show was Aiello's second at Miami Swim Week, the Fashion Week of the swimsuit industry. In her first show, she was the youngest designer to ever show at the event.
Last year, her show was a crush of smiling, flirty girls in crocheted one-pieces, braided bikini tops and printed bottoms that had stores like Free People calling. This month's was a similar vibe, with the models holding hands, blowing kisses and making hearts with their fingers.
"I had all of my models barefoot and I just told them before the show, 'You're barefoot, so have a presence. Don't be just a dead woman walking,'" Aiello, who goes by Frankie, told Mic by by phone. "Some people just do so much with the fashion show that it takes away from the specialness of it, so we didn't want to be too serious."
It's a perspective that you don't hear from most fashion designers. Then again, most designers aren't 20-year-olds who found their design stride on Instagram and are aiming to keep things positive in a cynical business.
Turning a DIY project into a business: Raised in Malibu, Aiello started off by harboring a certain pickiness about her swim gear. After her mom encouraged her to try getting a few suits custom-made, Aiello made a few designs for her friends and uploaded them to Instagram — and she was off.
But not everyone from her small town understood. "I went to a pretty religious high school and it didn't affect me too much until I started the company," Aiello confided. "People really didn't understand what was going on and they couldn't relate to me, so they would say things." The alienation culminated with her classmates sarcastically voting her "Most Christian" in the yearbook as a joke. "I ended up finishing my last semester of high school online," she said.
If she hadn't made that decision, she likely would have quit designing. But it was clearly Aiello who ended up on top. "I see [those people] on the beach all the time. ... Now they're, like, buying the swimsuits, and I get such a kick out of it!"
Keeping things positive in a cutthroat industry: The power of Instagram propelled the brand from a small project to a sizable company where Aiello manages four others in a downtown Los Angeles office. She also oversees Frankie's Bikinis' social media, including 484,000 followers on the brand's Instagram in addition to her own 142,000 Instagram followers.
She told Mic she tries to keep things positive online, a challenge when it comes to a business that inevitably showcases female bodies. Staunchly against body-shaming, Aiello said she deletes any comments and blocks Instagram users who post negatively about the model bodies. "We really try to make sure our models are all healthy-looking, so most of the time, a lot of the comments that we get are more like #bodygoals than negative."
Beyond Instagram, presentations like the runway shows at Miami Swim take things to another level, Aiello said. It helps that she's got her mom, Mimi Aiello, on board as the company's co-owner to manage the business side while she focuses on the creative. That includes designing, as well as special projects, including an effort to donate a portion of sales to epilepsy research, inspired by a neighbor of Aiello's who lives with the condition.
By now, Frankie's Bikinis is stocked in Planet Blue as well as international stores like Andy's Lounge in Australia and Bikini Vibes in Amsterdam. Besides the financial success, Aiello brings to the table the injection of youth — and a lack of self-seriousness that more designers could learn from. 
"I had seen shows prior to mine where [the models] were just not smiling and not doing anything. It was so boring," she said. Spoken like an honest 20-year-old.