Here's What It Looks Like When the Shopping World Realizes People Come in All Colors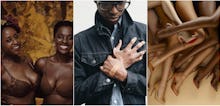 When the renowned shoe designer Christian Louboutin proclaimed on Twitter that "nude is not a color, it's a concept," he perfectly captured a sentiment that too many companies have struggled to embrace or have outright ignored.
It sounds simple enough, but Louboutin's statement alluded to a long-standing problem, particularly among fashion companies that favor fair skin as the default "nude" — think "ivory," "beige" and "flesh tone" — while overlooking darker colors.
Louboutin's helping to make progress; in 2013, the designer debuted a capsule collection of five different "nude" shoe shades and this year announced two new colors to round out the collection to seven. But he's not the only one. More companies are offering products in diverse colors that more closely resemble an array of natural skin tones, from makeup and nail polishes to lingerie and hosiery. 
The movement may be small, but several companies are leading the way to change our conception of "nude" and bring all shoppers — not just fair white ones — into the fold.
The importance of feeling recognizing: "I've always done a Nude shoe but only using the color beige," Louboutin said in a blog on the company's website. But after one of his team members bluntly declared, "Beige is not the color of my skin," he began to rethink the concept of nude.
"Nude"-colored heels often make the top of must-have lists from fashion editors, who extol their leg-lengthening properties. Wear a pair of nude pumps and you create the illusion of mile-long legs — that is, if the shoe actually matches your skin tone. Often, it doesn't.
That disconnect struck a chord with Toby Meisenheimer when one of his youngest sons got hurt. His older two children share his fair skin, while his youngest kids, who are adopted, have darker skin — and the beige adhesive bandage he placed on his son's forehead stood out awkwardly against his dark skin. 
After much thinking and an Indiegogo campaign, Meisenheimer launched Tru-Colour Bandages, which feature three different hues. The small detail — a Band-Aid-like product that actually matches — may seem unimportant, but the subtle message of inclusion it sends is a big deal. When the entrepreneur dad presented the Tru-Colour bandages along with regular bandages to his 4-year-old son, he didn't hesitate for a moment, Meisenheimer told Mic. 
"These are for me," he said, pointing at the Tru-Colour bandages, holding them up to his arm for comparison.
"This is a small piece that I could do something about," Meisenheimer said. "Even as a white dad of black children, I just wanted them to feel validated that their skin tone was special, unique and not in the 'different' category."
Recognizing what diversity really means: The lingerie company Nubian Skin was also born from personal experience. Lingerie that matches your skin tone is a basic component of women's closets, since it helps the lingerie blend into skin under sheer clothing. "It is something that is such a basic need, yet wasn't available! I knew that I couldn't be the only one who felt the same way – so I decided to create it," founder Ade Hassan told Mashable.
Nubian Skin launched in Nordstrom stores in July after being released online and in Europe in September, bringing along its most notable innovation: acknowledging not just "women of color" as a category, but the variety of colors within that label. The company doesn't just make bras in one basic "brown," but in a rainbow of hues. Diversity doesn't mean a token acknowledgment of categories — it means truly including and making space for all differences.
"We believe women come in all shapes, sizes and colors, and many brands are catering to the first two causes but not always the latter," said Bianca Miller to Mic. A former contestant on the U.K. version of The Apprentice, Miller is working on launching a pantyhose line that offers multiple skin tone shades for women. 
The goal is "a product that is not discriminatory in either direction but instead accepts and embraces the beauty in diversity."
Small changes can nudge an industry: Bandage companies started on Indiegogo won't reach everyone, nor can a shoe company selling heels in the three-digit price range reach every customer.
But the companies championing this change, while relatively small, are aware of each other's presence in the industry, Matthew Adams of Tru-Colour Bandages told Mic. They're all working toward the same goal of real, concrete inclusion and diversity, and they're hoping their efforts can nudge the fashion industry at large in the right direction.
After all, acknowledging that women are diverse is at the heart of the makeup company Iman Cosmetics, founded by supermodel Iman in 1994. Now, there's not a respected makeup brand that hasn't expanded its palettes to include women of all shades.
Foundation and blush were a start; lingerie and heels — and hey, even Band-Aids — might be next.