Watch Stephen Colbert's Weird and Wonderful New Web Series 'Lunch With Stephen'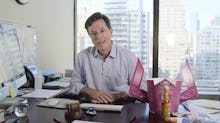 Fresh from interviewing Eminem on a random Michigan public access television station, Stephen Colbert is keeping it weird. How weird?
Very weird.
The late night host formerly of the Colbert Report, soon to be of the Late Show on CBS, has been keeping busy during his hiatus. His latest effort is a weeklong Web series. Titled Lunch With Stephen, the premise is quite simple: Colbert eating lunch on camera "with" his audience.
"What better way to bond with you guys than over lunch?" he says in the first video. "After all, these days a lot of people eat their lunch alone at their desk, watching videos like these."
They're short clips, much like most of what Colbert has been doing on the Internet since the end of the Colbert Report. They're meant to give the slightest taste of what the new Late Show will be like when it debuts in September. It's a savvy move on Colbert's part — we only know him as the persona from the Colbert Report. In a way, he has to introduce us to himself all over again.
There's something to be said, though, for using strange ideas to go viral versus just getting celebrities involved. Sure, he interviewed Eminem, but that was in the middle of a public access program in small-town Michigan. He's kept the strangeness of his projects the focus, introducing to us a slightly surreal new side of him. Compare that to a Jimmy Fallon or James Corden, who achieve viral status mostly through celebrity cameos.
Colbert may be inheriting the Late Show mantle from the most traditional late night host, David Letterman, but he's showing already he won't just be about tradition. He's got some innovative, if bizarre, ideas up his sleeve.
The Late Show With Stephen Colbert debuts Sept. 8. Watch the first two episodes of Lunch With Stephen below.