Donald Trump Just Gave Out Lindsey Graham's Phone Number on Live TV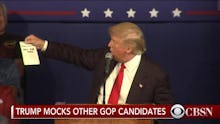 Donald Trump keeps on out-Trumping himself.
In a rambling speech at Sun City, South Carolina, on Tuesday, the billionaire Republican presidential candidate swung a series of blows at his fellow candidates that culminated in one of the most bizarre moves of his campaign to date. Responding to South Carolina Sen. Lindsey Graham calling him a "jackass" on CBS this morning, Trump gave out Graham's actual cellphone number to the crowd.
Trump also repeatedly denigrated Graham and former Texas Gov. Rick Perry's intelligence, calling Graham an "idiot."
At one point, he told his audience that Perry "put glasses on so people will think he's smart. It just doesn't work." Perry has begun wearing glasses in the year running up to the election, though his campaign notes they are in fact prescription lenses.
Trump also made a series of other strange claims and attacks during his appearance in South Carolina:
While these winding tirades might seem hilarious to an outside observer, for his opponents, they are quickly becoming a never-ending nightmare. Trump is far ahead in the Republican primary polls, and his audience loves the kind of red meat that he keeps tossing them.