Trevor Noah Was "An Idiot" for Past Jokes on Race and Women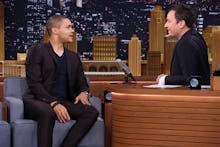 In an interview with GQ magazine published Tuesday, Trevor Noah, the South African comedian slated to replace Jon Stewart as host of The Daily Show in September, spoke about the controversy surrounding past unsavory jokes Noah made about women and Jews.
In the article, titled "Is Trevor Noah Ready for the Daily Show?", 31-year-old Noah said he was "an idiot" for some of his old quips, however he fell short of mentioning specific jokes he made.
Here's the excerpt from Noah's GQ interview:
"You show me half my jokes from even two years ago, three years ago — I hate them. Because you see, like, a young version of yourself. You're like, 'Why would you say that? You idiot! That makes no sense.' Or, 'That's just stupid.' Or, 'Ahh, I can't believe I said that about a woman.' You should not like what you did back then, because that shows that you've grown. If you're still doing it, that's a scarier place to be."
He continued: "So that's a great thing for me. When I get a chance to look back and go: 'I was an idiot.'"
The remarks weren't as much an apology as they were a simple acknowledgment of the fallout going viral shortly after Comedy Central announced in March that the network had chosen him to take Stewart's place.
Noah's name was virtually unknown in the United States prior to Comedy Central's big announcement. Social media users didn't have to dig very deep into the comedian's Twitter history before stumbling on some past jokes that just didn't feel right.
Among the things Twitter users found was a cringe-worthy joke about women's body types. 
Other tweets took aim at Jews. "Almost bumped a Jewish kid crossing the road. He didn't look b4 crossing but I still would hav [sic] felt so bad in my german car!" Noah wrote.
Another tweet read, "Behind every successful Rap Billionaire is a double as rich Jewish man."
The tweets, largely posted between 2010 and 2012, had many wondering whether the 31-year-old's brand of humor was all that appropriate or even that funny.
Noah defended the tweets, saying that highlighting a few jokes from his past was not a "true reflection of [his] character, nor [his] evolution as a comedian."