These Artists Are Breaking Taboos, One Female Orgasm At a Time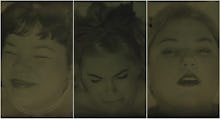 The "O-face" is a concept shrouded in mystery, an elusive moment that's almost impossible to portray accurately. But how are we supposed to truly understand it if it's always misrepresented in mainstream media? It seems that every Hollywood-manufactured female orgasm is exactly the same: Like a scene straight from a porn film, actresses' eyes roll back in their heads and they scream in ecstasy while their climax rolls over them like a gentle wave:
As The Affair's Ruth Wilson put it last February while lamenting the Hollywood version of the O-face to Net-A-Porter, "I kept insisting, 'Why have I always got to do the orgasm face? There should be a male orgasm face. Why is it always the woman who's orgasming?'"
Thankfully, there are artists outside Hollywood providing alternative — and far more honest — images.
Capturing the moment in a photo: One Portland-based photographer has set out to change the limited perception of female pleasure. Artist Lauren Crow's photo project The Little Death captures the complex beauty of female pleasure, sans the Hollywood male gaze that informs the typical informs its portrayals.
"In a patriarchal society, women are flooded with information on how to be and how to look in order to please others, namely men," she writes on her website. "In terms of female pleasure, we are rarely shown what it really looks like. We are afraid to talk about it."
Her photos, on the other hand, are incredibly raw. The project consists of 15 haunting photos, each containing a different subject. Some are Crow's friends, while others were found via Craigslist or social media. The antique-looking photographs are tintypes developed in a darkroom sans Photoshop, Crow said. The women's expressions depict a range of pleasure, but not necessarily the exact moment of climax, despite the title of the photo series. 
The result is a collection of images showing the many faces of female pleasure, from masturbation, a toy or stimulation from a partner. Each expression is a no-frills depiction of real female pleasure — and, more importantly, isn't depicted through a male lens.
In those idealized visions of female sexuality, said Crow, women are rarely shown struggling to reach climax, instead orgasming at the slightest touch from a man. Real orgasms are often much more difficult to achieve (as the wise comedian Amy Schumer recently pointed out). Crow began her project to combat those idealizations and help women and female-identifying individuals feel more comfortable with their sexuality.  
"In terms of female pleasure, we are rarely shown what it really looks like We are afraid to talk about it."
"I've always been interested in exploring my own sexuality as a person and as a woman, which brought me to exploring women's presence sexually as a whole. I was inspired to create the project when I felt I wasn't seeing the realistic imagery I wanted to see and that I feel people need to see," Crow told Mic.
Filming an orgasm revolution: Crow isn't alone in wanting to change the way we think about female orgasms — and some innovators are doing it with video. The Dutch all-girl band ADAM made headlines last May with the music video for song "Go to Go," in which women lip-synced the lyrics while having an orgasm onscreen. 
The YouTube series Hysterical Literature also features women reading passages from books while being stimulated by a vibrator. We see the slow build: Each minute that passes by brings the woman closer and closer to her climax.
Another such project, Beautiful Agony, is an experimental collection of videos showing both male and female orgasms. It aims to "test a hypothesis that eroticism in human imagery rests not in naked flesh and sexual illustration, but engagement with the face," as the creators write on the project's website. The paid subscription service is essentially a different kind of pornography. 
The videos show "genuine, unscripted, natural orgasm," but only from only the face and neck up. How the men and women reach orgasm is left to the imagination, but the resulting film is nonetheless a glimpse into what true pleasure looks like.
Screw the When Harry Met Sally charade: Sorry, Meg Ryan. Sorry, Anastasia who could come on command in 50 Shades of Grey. Women's orgasms are more complicated than that, and often more squirmy, awkward and uneven. They're human.
In a society where men and women are still not truly equal in many ways, it's a refreshing change of pace to see women's pleasure at the forefront. In fact, we need it.