In Case You Didn't Know, There Actually Are Alternatives to Spotify and Apple Music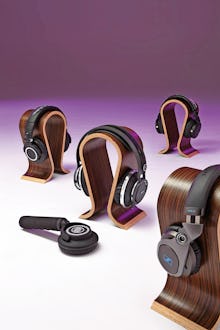 In this day and age, we're all plugged into the same white earbuds, listening to the same old songs, streaming from the same not-so-old services like Spotify or Apple Music. 
If you're a Spotify-er, or have already made the switch to Apple Music, you're part of the vast majority of streamers. If you've subscribed to either of these services and you're waiting for those precious first three months of free streaming to come to a screeching halt, fear not: You actually have some choices about where you can listen to your music.
There are actually a handful of other major streaming services for any of us who are seeking alternatives to the two big dogs in the streaming industry. Here are some of the other streaming services you've probably never used before:
Plug.dj:
Plug.dj combines avatars, club life and music streaming all in one virtual community. The service is unique in that users create rooms to begin building playlists in, and other users are able to enter other rooms and interact with audiences by chatting, changing costumes and voting up and down songs with a "woot" or a "meh," instead of the traditional thumbs up or down.
There is a built-in music library that boasts 50,000 songs, as well as an option to stream from YouTube, which is considered the most popular form of playing music within the app. 
What sets it apart from the rest: Plug.dj allows users to listen to and experience streaming music with an entire audience, whether they're sitting alone at work or tuning in from a crowded bus stop. 
Amazon Prime Music:
Ad-free listening, a player connected to the cloud that allows for song storage, and human-curated playlists are just some of the features you'll notice in Amazon's new streaming service, which launched last year.
Amazon Prime Music, which is included in your subscription to Amazon Prime at $99 a year, only features one million songs in its database, but those numbers are increasing as the service continues to grow. Prime's radio feature allows users to tune into online radio, with as many song skips and ad-free hours of music as they'd like.
What sets it apart from the rest: For just one upfront fee of $99 per year (which costs less than most annual costs for other services), not only do users get full access to Amazon Prime Music, but they even create an account for Amazon Prime, which is the free shipping icing on the cake.
Rdio: 
This sleek radio app allows search by choice of artist, song or genre and offers several customizable features that help personalize radio channels to each specific listener.
For $10 a month, users have access to the entire collection of music Rdio has to offer, with ad-free music and the ability to listen to entire albums. Or you can use the service entirely for free and still be able to have personalized radio streaming right to your desktop or mobile — so long as you're willing to sit through a few ads here and there.
What sets it apart from the rest: Rdio gives users access to completely unique and personalized radio channels, created for the listener, by the listener. It is also one of the few streaming services that focuses entirely on using radio channels as the main source for streaming.
Tidal:
With its minimalistic design and easy-to-use interface, Tidal boasts over 25 million songs and 75,000 videos, with exclusive content being churned out each week.
The service, purchased and owned by Jay Z (along with 16 other musicians: Alicia Keys, Arcade Fire's Win Butler and Regine Chassagne, Beyoncé, Calvin Harris, Chris Martin, Daft Punk, deadmau5, Jack White, Jason Aldean, J. Cole, Kanye West, Madonna, Nicki Minaj, Rihanna and Usher) offers high-quality sound and unique charts that show what other listeners are listening to, or what's "rising on Tidal". 
The musicians who maintain ownership in the company have been delivering exclusive content onto the service since its inception. Most recently, Rihanna even "kidnapped" her fans for an exclusive showing of her new music video "Bitch Better Have My Money" before it came out to the general public. 
What sets it apart from the rest: Tidal offers "lossless" quality, meaning that it never loses any sound quality from the moment it's produced in the studio to the second you plug in your headphones. That, and getting kidnapped by Rihanna, seem to be this young streaming service's greatest asset to date.
Google Play Music:
Launched in 2011, Google Play Music works primarily as a cloud, allowing users to upload their own library of pre-downloaded music and Google Music will even find higher quality-matches of those songs. 
The streaming service from Google also has a larger library than some other top streaming competitors, with 30 million songs in its database. Google Play Music has also received some facelifts recently to compete with other services, providing curated playlists, a cool new YouTube Music Key feature and an entirely new interface.
What sets it apart from the others: Google offers the ability for listeners to swap their old songs for new, higher quality mp3 versions of those files. Also, the service is owned by Google and one of the oldest streaming services in the industry, so chances are there will be continued improvements as Google works out the kinks.