6 Musicals You Don't Have to Get to Broadway — Or Off Your Couch — To See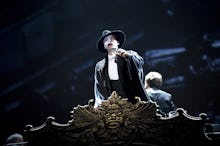 Broadway ticket prices are expensive, and they're only getting worse each year. Combine the idea of traveling if you don't live in New York and the cost approaches being insurmountable. How can theater — specifically musical theater — become less of a luxury and get exposed to the widest possible audience?
Luckily, for some shows, you don't even need to get off your couch. They're available online.
Now, these aren't all shows currently on Broadway, but they are both modern and classic hits to enjoy. Best of all, they're available at the touch of a button. Here are six musicals you can watch from the comfort of your own sofa.
The Phantom of the Opera
Netflix has available the 25th anniversary concert of Broadway's longest-running show (and the only current Broadway show on this list). It's not a fully staged version, but the caliber of theater actors involved is impressive, including current Les Miserables star Ramin Karimloo, soon-to-be School of Rock — The Musical star Sierra Boggess and more. Just try to get "Masquerade" out of your head after watching.
Rent
One of the contemporary classics, Rent tells the story of a group of friends in New York trying not just to survive, but to live despite economic and health hardships. It's exuberant and tough, full of life despite the characters' proximity to both metaphorical and literal death. The version on YouTube is from 2008, the show's final year on Broadway after running for 12 years. It's also far better than the movie version available on Netflix.
Company
Another staged concert, though with a good bit of blocking, the New York Philharmonic version of Stephen Sondheim's Company was staged in 2011. It features a cast chock-full of stars: Neil Patrick Harris, Stephen Colbert, Jon Cryer, Christina Hendricks, Anika Noni Rose and living legend Patti LuPone. It's one of the prolific songwriter's best shows.
Legally Blonde: The Musical
Laugh if you must, but Legally Blonde: The Musical is a far better show than you'd predict. The story is streamlined, with greater emphasis put on fledgling law student Elle Woods' (Laura Bell Bundy) various relationships with her friends and love interest Emmett (Tony winner Christian Borle). The score is truly stellar; opening song "Omigod You Guys" is an earworm for the ages. Best of all, this online version is professionally shot by MTV. It's like you're right there in the theater.
Gypsy
Okay, so this is technically a TV movie. Still, it's worth skirting the rules of this list to include Bette Midler's take on Mama Rose, a classic character of theater. Definitely hop on over to Hulu to watch, if for no other reason than to see the full version of her take on "Rose's Turn."
Shrek the Musical
Shrek may be mostly an Internet punchline these days, but the musical version actually has quite the pedigree. The music was composed by Tony winner Jeanine Tesori, whose show Fun Home is currently on Broadway. Lyricist David Lindsay-Abaire is a Pulitzer winner. The Broadway cast featured two-time Tony-winning actress Sutton Foster. It's well worth your time to check out on Netflix.