Here's the Tweet that Launched a War Between Nicki Minaj and Taylor Swift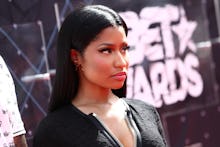 On Tuesday, the MTV Video Music Awards released their nominations for the upcoming show. Among the nominees for the much-anticipated Video of the Year award, there was one video notably missing: Nicki Minaj's "Anaconda" — aka the most talked about video of 2014.
Minaj did not take the slight well, and took to Twitter to air her grievances. In one tweet, she took a not-so-subtle shot at women with "very slim bodies."
Taylor Swift, who was nominated for her B-movie action flick extravaganza "Bad Blood," identified herself as the object of the tweet. She responded to Minaj:
... but Minaj played innocent:
A clash of titans. Swift and Beyoncé are the only two women nominees for Video of the Year. And Beyoncé is not often described as being a very slim-bodied woman. So if not for Swift, it's unclear who the tweets are meant for (except for nominees from years past, perhaps). 
Yet Minaj claims the Swift shade is not her primary issue. Her issue is that women with curvy bodies can frequently be overlooked in this context. 
And yet, Twitter remains fixated on the Minaj-Swift showdown. 
We'll let that run its course. Once the pure adrenaline from watching two of pop's biggest female stars trade shots on Twitter wears off, we can have a productive conversation on body discrimination in pop music. Minaj has pointed this out several times before, specifically in connection to the "Anaconda" video. 
Swift tried to extend an olive branch with the following tweet:
But it's only prompted the ire of Minaj fans and Minaj herself.
We'll have to see how it all runs its course.