In Obama's Last 'Daily Show' Appearance, He Gave Jon Stewart the Most Epic Farewell Ever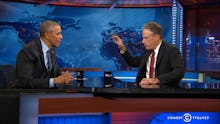 Barack Obama, the 44th president of the United States, made his final appearance on the Daily Show on Tuesday evening. In a lengthy interview, host Jon Stewart tells few jokes and instead focuses on more serious issues like the recent Iran nuclear deal, failures at the department of Veterans Affairs and Obama's legacy.
Both Obama and Stewart begin by commenting on their imminent retirements. Obama will leave office in 2017 and Stewart is planning his final show on Aug. 6. During the interview, the president says he is astonished Stewart will be leaving before him, and adds what everyone is thinking: 
"I can't believe that you're leaving before me. In fact, I'm issuing a new executive order, that Jon Stewart cannot leave the show. It's being challenged in the courts."
The conversation then quickly turns substantive with Obama reflecting on his own accomplishments as president, remarking that the job became easier with experience and many of his early accomplishments, like the Affordable Care Act, were starting to bear fruit only late in his tenure. 
Stewart then moves on to the Middle East, noting the apparent contradiction of striking a deal with Iran over nuclear weapons while fighting them in Yemen. "Whose team are we on?" asks Stewart sarcastically. "You don't make peace with your friends," Obama responds, before launching into a long defense of the recent Iran nuclear deal. 
Stewart then asks for Obama's view of the news media itself. The president concedes that some outlets annoyed him more than others. "The thing that I'm most concerned about is not that it's unfair or that it's too tough on government, because I think that that's what journalism and the media is supposed to be doing," Obama says, adding, "I think it gets distracted by shiny objects and doesn't always focus on the big tough choices and decisions that have to be made."
In the final leg of the interview, Stewart focuses on what he calls a lost sense of shared sacrifice, especially after 15 years of war in Iraq and Afghanistan. "Military families — less than 1% of Americans — are bearing the entire brunt of this," says Stewart, who then suggests some form of compulsory national service. Stewart notes his belief that American young people would jump at the opportunity to serve. 
The president seems to agree, citing his own experience as a community organizer:
"The best education I got was, for a few years, me working in low-income neighborhoods as an organizer, not really knowing necessarily what I was doing, but understanding that I wanted to try to commit myself to something bigger than just me. And the young people I meet around the country — by the way, around the world — they have that same sense. This notion that young people have lost their idealism, or they're too cynical, or ironic — it's not true. But we have to give them pathways to get them involved."
The president closes out the segment with a call to civic engagement. "There is a sense of common purpose at the neighborhood level," he says, noting that it dissipated through the imposition of money, filters and political polarization. "The only way to prevent that is by people getting involved."
Stewart can't help but respond with a Donald Trump gag.
Obama's interview on the Daily Show was his seventh appearance on the program and his third as president. Stewart will host his final broadcast on Aug. 6 and then be replaced by South African comedian Trevor Noah.  
Part 1:
Part 2: 
Part 3: