A Black Man Was Shot in the Head by a White Campus Police Officer During a Traffic Stop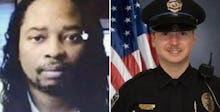 During a routine traffic stop on Sunday night, white University of Cincinnati campus police officer Ray Tensing shot 43-year-old black man Samuel Dubose in the head.  
Dubose was missing a license plate on the front of his car, according to police officials, university police chief Jason Goodrich told the Guardian. Dubose allegedly refused to provide a drivers' license and instead pulled out a bottle of alcohol. The pair struggled briefly before the campus officer shot Dubose once in the head, Goodrich said. The force of the shot knocked Tensing to the ground, and Dubose's car rolled forward before coming to a stop. Tensing's clothes were reportedly ripped, and his legs bruised.
Tensing had been working for the university since April 2014 and previously had approximately 5 years experience with law enforcement, according to Goodrich. Dubose had 13 children and 60 arrests, CNN reports.
Prosecutors have said they are "rapidly investigating" the case and, as of Tuesday, the Cincinnati Police Department had taken over the investigation at the university's request.
"This incident didn't involve a Cincinnati Police Department officer, but it happened in our city, and it is our job to ensure this investigation is handled with the attention it deserves," City Manager Harry Black told NBC Tuesday. "This is a serious situation and I will do everything necessary to ensure the investigation is handled as such."
"Our hearts grieve for his loss," University president Santa J. Ono said in a statement. "We also know that police officers risk their lives every day, and when their efforts to protect themselves and our community result in a death it is a tragedy. No matter the circumstances, it is a time of unimaginable sadness for all involved." 
Ono also tweeted the university would do everything it could to assist in the investigation.
In the past few years, there has been a string of incidents in which unarmed black citizens have been shot and killed by white police officers. Less than two weeks before Dubose's death, police in Texas arrested a black woman named Sandra Bland for a traffic violation, and she was later found dead in her prison cell.