The Creator of 'Transparent' Revealed the Surprising Way We Can End Hollywood Sexism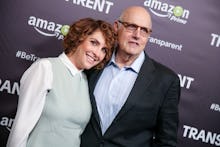 Writer, producer and director Jill Soloway isn't just fighting inequality through her work — most notably her award-winning series Transparent, which centers on a transgender protagonist — but also by forcefully speaking out about sexism in the industry itself. And she did just that  Monday night at a Women in Film fundraiser, powerfully expressing her thoughts on the most effective way to combat this sexism.
"Male creators, showrunners, producers and directors have to really face the immorality, their own immorality, of hiring their friends, of telling male stories, of perpetuating male privilege through protagonism," Soloway said,Variety reports. "So that means the male gaze — men as subject, women as object — is business as usual for men to be able to keep telling their stories from their point of view."
Business as usual: When discussing sexism in entertainment, many point to numbers alone — and for good reason. Only 27% of primetime TV creators, writers, producers, executive producers, photography directors and editors were female between 2013 and 2014, the Women's Media Center reported, and just 7% of the top 250 grossing films last year were directed by women, according to a San Diego State University report.
But Soloway notes equality is not just about quantity. It's about the quality of what these male-packed teams produce and the effect that quality has on others. In order to reach true parity, the industry must not only employ more women, but also commit to reflecting the stories and experiences of female and otherwise marginalized viewers.
Industry execs, Soloway summarized, must "offer women the chance to write, to direct, and then to empower them once they are writing and directing, and say, 'Tell your story, tell your story!'"
Soloway says she experienced the power of positive representation in her work after Kim Kardashian and her stepparent Caitlyn Jenner told her that watchingTransparent together positively shaped their family's understanding of Jenner's transition.
"To have a conversation with Caitlyn, where she said that Transparent helped her see a world where a parent could come out and be loved by their daughters or their family ... that we might have had some small effect on the way a much more famous family was able to also welcome their trans parent into the world ... it's crazy to me," Variety reported Soloway said.
While progress is certainly being made in terms of sexism within the industry itself — including an American Civil Liberties Union investigation into the dearth of women working in entertainment — it's important to recognize, as Soloway has, that equitable representation isn't just about who creates these stories, but who they reflect as well. Hopefully, the industry will heed her call for change. 
h/t Variety