The Real Reason Limited Too Is Making a Comeback Might Freak You Out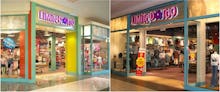 Calling all the millennial women who grew up prowling the mall with their moms in suburbia: Limited Too is coming back.
News broke Tuesday that Limited Too, the clothing and accessories store that was popular with tween girls from the late 1980s through the early 2000s, is making a comeback after shuttering in 2008. The New York Post reported that brand management company Bluestar Alliance purchased the Limited Too trademarks and will be reintroducing the brand via department stores, standalone shops and e-commerce in over 200 stores in the next 5 years.
The aim? To bring back Limited Too shopping "to both the tween consumer and her mom."
Yes, moms. That's... us. 
As BuzzFeed's Sapna Maheshwari wrote, "How time flies, if the oft-marketed to millennials are already producing coveted tween consumers." 
Tapping into our nostalgia: Bringing back a '90s icon like Limited Too is clearly a nostalgia play by business execs, a move that has proven to create buzz. 
Bath & Body Works had millennial women — aka, those born from around 1981 through 1997 — when it announced the brief return of six signature scents that had been discontinued since our teen years. (Cucumber Melon, anyone?) Herbal Essences did the same by briefly bringing back its old-school bottles, as did Urban Outfitters by digging up vintage Lisa Frank gear.
Limited Too, which was spun off from The Limited in 1987, was owned by a parent company called Tween Brands and had nearly 600 stores in the U.S. at its peak. By 2008, Racked reports, the remaining 560 Limited Too mall stores disappeared.  
When it comes to millennial nostalgia, bringing back LTD2 (as Limited Too was affectionately called) is somewhat about us 20- and 30-somethings. We're obsessed with the brand in a wistful way and were all ready to tweet our excitement over its return, as Twitter witnessed Tuesday. (Remember the Spice Girl lollipops? The inflatable chairs? The early-day selfie booths?)
But more importantly, as Bluestar Alliance's press statement noted, we're now moms. Women are now becoming moms at around 26, which means new moms fall into the millennial generation. According to a recent Goldman Sachs report, 85% of new babies born in 2013 had millennial-age mothers. 
Marketers have realized that, as coveted as millennials are as customers, we're even more covetable when we have children to shop for. According to Goldman Sachs, American parents spend about $1 trillion each year on their kids. Most 26-year-olds might not have eager 12-year-old girls yet, but we will — soon.
There's no doubt that Limited Too's new owners hope that as we start popping out and raising kids, we'll start shopping at the stores we've long harbored affections for. Given the preferences of kids today, that's not a bad bet: Justice, the tween clothing store that sprung up in Limited Too's place, is a favorite among girls and is the "market share leader" for tween clothing.
The store we'll take our daughters to: Luckily, by revisiting Limited Too for a new generation — really, two new generations — the brand has a chance to do some things better. LTD2 was notoriously pricey, the exclusive purview of "cool girls" whose parents could afford (or were willing) to shell out big bucks on a graphic tee or satin pajamas. 
Moreover, Limited Too, like so many other teen- and tween-focused stores, also didn't make notable efforts to address plus-size girls. (Those camis with built-in bras weren't much help once you needed an actual bra for actual boobs.) 
Now that millennial women are the ones deciding where to buy their daughters' clothes (!), we'd like a Limited Too that's even better than before. We just might get it.
h/t Buzzfeed