5 Times Nicki Minaj Spoke the Fierce, Feminist Truth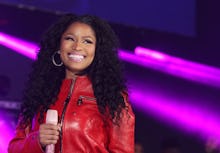 Anybody who has been on the Internet in the past 24 hours is likely aware Nicki Minaj and Taylor Swift are the latest women in a celebrity "cat-fight." It began when, true to her pull-no-punches style, Minaj took to Twitter after the MTV Video Music Awards failed to nominate her music video "Anaconda" for video of the year — despite the vast attention it drew upon release — and pointedly posited that perhaps her video wasn't nominated because of persistently narrow understandings of female beauty and sexuality.
While Minaj didn't name names, Swift — who was nominated in the category for "Bad Blood" — took the tweet personally and began to not only defend herself but subtly accuse Minaj of failing to live up to a higher feminist standard of supporting other women. 
The focus on the feud misses a broader point: By assuming Minaj was pitting "women against each other," Swift not only expressed a narrow understanding of feminism — just add more women! — but also obscured the many feminist statements Minaj has made previously.
In fact, Minaj has vocally supported female empowerment in the media since the beginning of her career. Here are five times Minaj spoke the feminist truth, which should not be forgotten in the midst of this simplistic scrap. 
1. She embraces her sexuality. 
Minaj takes pride in her sexuality and refuses to be shamed for it. 
"There are sexual things that I do that aren't for a man," she told Vogue. "I feel empowered sometimes by being sexy and being comfortable enough to be sexy on camera."
Insisting she limit this expression, she's said, is evidence of a pervasive, sexist double standard.
"Women should be allowed to be as hardcore and sexual as we want, because men do it all the time," she told V Magazine.
2. She pushes back on racism.
Minaj has faced plenty of undeniably racially charged backlash to her sexuality. As Michelle Denise Jackson noted on For Harriet, the reaction to Minaj demonstrates that even now, "We still don't know what to do with black women's bodies, bodily autonomy and sexualities."
But Minaj's work hasn't just sparked thoughtful dialogue about the issue — she jumped into the conversation herself. In fact, one of her most searing critiques of this racist backlash required only three words. When media outlets called the "Anaconda" cover artwork "racy," she took to Instagram and posted photos of thin, white models wearing little clothing — which she labeled "acceptable" — compared to her own cover, which she jokingly labeled "UNACCEPTABLE."
3. She's spoken up for women's reproductive rights.
Despite the pervasive stigma that still surrounds abortion, Minaj has boldly taken a firm pro-choice stance in the media.
"It'd be contradictory if I said I wasn't pro-choice," Minaj told Rolling Stone in 2014, openly admitting she had an abortion as a teenager. "I thought I was going to die. I was a teenager. It was the hardest thing I'd ever gone through."
Considering that research shows sharing personal experiences may be one of the most effective forms of pro-choice activism, Minaj's honesty cannot be understated. 
4. She's outspoken about financial empowerment.
"I always feel it's important for me to show females that they can be in charge of their own situation," Minaj told V Magazine, adding that "creating her own brand" rather than taking "orders" from others was a purposeful decision. "I love women who take control, who set standards and who believe in themselves enough to lead the way in terms of their career. I've done that. When I win and when I lose, I take ownership of it because I really am in charge of what I do."
Beyond control, Minaj has also noted that women having their own money is a crucial — though often underdiscussed — point of female empowerment. 
"I just want women to always feel in control," Minaj told Dazed, adding that she hopes women never "feel like they should settle for less, financially. No, money doesn't mean everything. But it says a lot."
5. She rejects the media's two-dimensional, objectified depiction of women.
"Every woman is multifaceted," she told Complex in 2014. "Every woman has a switch, whether she's going to be maternal, whether she's going to be a man-eater, whether she has to kick ass, whether she has to be one of the boys, whether she has to show the guys that she's just as smart or smarter, she's just as talented or creative. Women suppress a lot of their sides."
And this multidimensionality is one Minaj even applies to her own conception of feminism. 
"I think of myself as a woman who wants other women to be bosses and to be strong and to be go-getters," she told Vogue. "I don't label myself. I just say the truth about what I feel: I feel like women can do anything that they put their minds to."
While Minaj may not subscribe to labels, while her personal perspective on empowerment may not jive with those of other celebrities, there's no doubt she is doing important work in terms of female representation. Twitter wars aside, Minaj is a worthy role model to many — and we should never forget it.