Watch the First Full Trailer for the New James Bond Movie 'Spectre'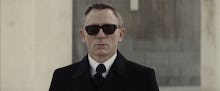 James Bond wants to disappear in the first full trailer for Spectre. Judging by the fact that this is the 24th (and counting!) movie in the series, we're betting he's not going anywhere.
"They say you're finished," Naomie Harris' Moneypenny tells him. "I think you're just getting started."
We've previously seen a TV spot for the latest movie in the English film franchise, but this is our first full look at Daniel Craig's fourth outing as 007. His run as Bond has been a successful one, though inconsistent; Casino Royale and Skyfall were both beloved by critics, while Quantum of Solace was seen as a significant step down.
Spectre, helmed by Skyfall director Sam Mendes, represents something of a shift for the rebooted franchise. The previous head of MI6 (aka M), played by Judi Dench, was killed in Skyfall, leaving Ralph Fiennes as the new M. This will be his first full film in the role. It's also the film that introduces Craig's Bond to SPECTRE, the crime organization originally from Ian Fleming's novels and last featured in 1971's Diamonds Are Forever.
Can Spectre keep the franchise as hot as it was after the release of Skyfall? Judging from this relatively subdued trailer, it'll be an interesting challenge — though it's a task this team has shown themselves to be up to before. If nothing else, Christoph Waltz is proving himself quite the interesting-looking villain.
Spectre hits theaters Nov. 6. Watch the full trailer below.