Bill Cosby's Lawyer Wants to Suppress the 2005 Deposition for the Most Ridiculous Reason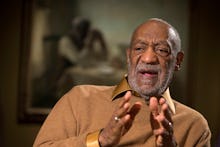 A lawyer for Bill Cosby has attempted to prevent further details of the embattled entertainer's sexual encounters from being publicized by arguing Cosby gave women he planned to have sex with Quaaludes, or sedatives, only for consensual sexual encounters. 
Attorney Patrick O'Connor argued the drugs were part of the 1970s party scene, and that those condemning Cosby's actions were too quick to label his encounters with women as sexual assault, according to new court filings People has reported. 
O'Connor submitted the filing Tuesday in an attempt to block the full release of a damning 2005 deposition, some details of which were recently made public.
"There are countless tales of celebrities, music stars, and wealthy socialites in the 1970s willingly using Quaaludes for recreational purposes and during consensual sex," the filing reads, according to Entertainment Weekly. "Yet upon the unsealing of those excerpts, the media immediately pounced, inaccurately labeling the released testimony as defendant's 'confession' of 'drugging' women and assaulting them."
The defense followed the New York Times publication of excerpts from a 2005 court deposition in which the former The Cosby Show star described his sexual relations with women. The documents confirmed the comedian kept Quaaludes on-hand for when he would entertain women, in addition to other startling revelations, like the mentor-mentee relationship he maintained with some of the women who have accused him of rape. A judge first released parts of the deposition to the media earlier in July after the Associated Press obtained a set of court documents.
O'Connor said making the full deposition public could bolster other rape allegations against him: "Reading the media accounts, one would conclude the defendant has admitted to rape. And yet defendant admitted to nothing more than being one of the many people who introduced Quaaludes into their consensual sex life in the 1970s."
Dozens of women have come forward to say that the comedian raped them, including supermodel Janice Dickinson and film executive Cindra Ladd. The 2005 deposition centered on allegations brought by Andrea Constand, a former Temple University employee who accused the comedian of drugging and sexually assaulting her.