Meek Mill Is Calling Out Drake for Not Writing His Own Raps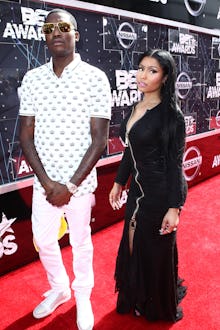 There seems to be quite a bit of bad blood in the music industry these days.
Meek Mill put fellow rapper Drake on blast early Wednesday morning for allegedly hiring ghostwriters to help him produce his incredibly popular raps and featured verses. 
This is one of Mill's first full-fledged Twitter wars with another rapper, which apparently is the new method for rappers to become famous (other than dating another celebrity and being repeatedly featured throughout their album, of course). It's perhaps fitting Drake is the crux of Mill's Twitter rant, as the Canadian rapper seems to have always had a thing for Mill's fiancee, Nicki Minaj.
Drake once told the Daily Beast, "If there's any woman in my life that's the ideal woman for me, it's definitely Nicki ... I know some great women, but all jokes aside, Nicki is somebody I could spend my life with because I think we understand each other."
Other rappers, including Chris Brown and Rick Ross, were quick to join in on the fun, although their statements were soon deleted.
This all comes just hours after Minaj may or may not have thrown some shade at Taylor Swift Tuesday night for snubbing a VMA nomination for her latest music video slash mediocre action-thriller.
We may never know whether Drake has hired ghostwriters to help him churn out hit after hit. All we have to go on is one rapper's claim of truth. But Mill doesn't seem to be backing down from his bold statements about one of the most popular artists in the music industry.
At least we know one thing is for sure: This burgeoning hip-hop power couple refuses to remain silent on the issues.