This Young Fan Just Unknowingly Unearthed a Rare Piece of Nirvana's History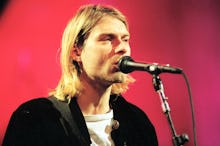 Last week, 19-year-old Maggie Poukkula found an extraordinary piece of rock 'n' roll history tucked away in one of her father's Kurt Cobain biographies. It was a photo strip featuring Cobain singing through his blond hair and Poukkula's father, Tony, jamming alongside. She shared the pictures on Twitter, and it was then that she realized the significance of these photos: They came from Nirvana's first gig in 1987 Raymond, Washington.
"I had no idea that those were during Nirvana's first concert," Poukkula told Rolling Stone. "My dad showed me them a while back, but he never mentioned that's what was going on in the photos. I found out because of all the articles. I didn't realize it was such a historical thing. I thought they were just cool pictures of my dad and Kurt jamming together."
The pictures show Nirvana before they had even solidified their roster. Aaron Burckhard was still on drums, warming up the throne for Dave Grohl, now the Foo Fighter's heroic frontman, who joined three years later in 1990.
The pictures capture the moment when the band brought Tony Poukkula, who is the guitarist for the Seattle band Laytem, onstage to play at least two Led Zeppelin covers: "Heartbreaker" and "How Many More Times," according to an incomplete set list uncovered by Rolling Stone. A version of "If You Must," reportedly from that historic set, lives on YouTube.
According to Consequence of Sound, the band's debut set received a lukewarm reception from its audience. But it encouraged Cobain to continue developing the sound. That fateful moment is captured strikingly in the photo strip, which adds one more rare artifact to the troves of Cobain memorabilia fans continue to pore over to this day. They got a huge helping in the recent HBO documentary Montage of Heck, which is filled with sketches, lyrics, poems, journals and footage from Cobain's and Nirvana's early days. But Poukkula's finding proves there may still be even more traces of Cobain out there where all that came from.
h/t Rolling Stone