New Swing State Polls Have Bad News for Hillary Clinton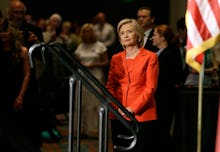 A new Quinnipiac University poll released Wednesday shows Democratic presidential frontrunner Hillary Clinton trailing top Republican opponents in the key swing states of Virginia, Iowa and Colorado. The former secretary of state led each in a survey conducted earlier this year.
Notwithstanding human phonebook Donald Trump, Wisconsin Gov. Scott Walker, Florida Sen. Marco Rubio and former Florida Gov. Jeb Bush are the candidates most likely to emerge from the crowded GOP field. According to this latest finding, the trio leads Clinton in three states that will play a key role in deciding the next president:
Losing the Obama coalition? President Barack Obama won all three states in both the 2008 and 2012 elections.
In 2008, he outpaced Sen. John McCain (R-Ariz.) in Colorado by 9 points. Four years later, he edged out Mitt Romney 51% to 47%. 
Like Colorado, Obama twice edged out Republicans in Virginia, a state that in 2008 hadn't voted for a Democrat since President Lyndon B. Johnson in 1964. If the current trend holds, the GOP could seize back the Commonwealth for the first time since President George W. Bush was reelected in 2004. Iowa, which vaulted Obama over Clinton during their long primary race in 2008, swung Democrat in that year's general election. Obama barely held on in 2012, and Clinton now faces her steepest deficits in the Hawkeye State.
Doing the math: A lot can change in the course of four years, but the Obama electoral map shows what would happen if Clinton were to lose these three states.
If Clinton lost Colorado, Iowa and Virginia while winning the rest of the states Obama captured in 2012, she would still win the White House. However, if she lost all three, the Republican nominee would only need to pick up 36 additional electoral votes to prevail, which could be accomplished by winning Florida and either Wisconsin or Ohio. Bush and Rubio are each poised to mount a formidable challenge in their home state of Florida, and Walker has won statewide elections in Wisconsin three times in the past five years.
The name game: According to the analysis of Quinnipiac pollsters, Clinton's trust deficit is hurting her with registered voters. At least 55% of respondents in each of the three states surveyed said they did not consider Clinton to be "honest and trustworthy."
In Colorado, her numbers "border on abysmal," writes Quinnipiac poll assistant director Tim Malloy.. "Do Colorado voters trust Hillary? No, they do not. Do they think she cares about their needs? No they do not."
Despite the dire warnings, Clinton supporters have some reason to smile. In all three states, her favorability ratings are equal to or a few points shy of the Republican frontrunners. Because Clinton is a household name, and has been for nearly 25 years, voters' opinions of her are pretty well established. Not so for Rubio or Bush, who are relatively newcomers to the national scene. (Bush's case is obviously a bit more complicated; his last name is a political institution, while his first remains a relative mystery.)
Walker, the most combative and conservative of the three, has very little name recognition. In Colorado, 39% of voters "haven't heard" of him. Only 6% — which seems high! — say the same about Clinton. Expect that knowledge gap to be filled with a flood of fiercely negative ads from the Democratic Party, aligned super PACs and, of course, the Clinton campaign itself.