Is California Marijuana Legalization One Step Closer to Reality?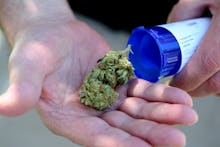 The country's most populous state could be on the right path toward full marijuana legalization in 2016 after a major report, spearheaded by the state's Lt. Gov. Gavin Newsom and released Wednesday, has attempted to lay the groundwork for implementing adult recreational pot sales. 
While the report, titled the "Blue Ribbon Commission on Marijuana Policy," neither endorses nor opposes legalizing pot in California, it signals that lawmakers consider marijuana legalization a shoo-in with voters next year, and they're willing to start preparing now for when that day comes. 
Among its 58 recommendations for implementing marijuana legalization, the report has called for a tightly regulated recreational market from the onset and for limiting advertising by marijuana-related businesses. "We're not arguing for a free market," Newsom said, according to the Los Angeles Times. "We're arguing for a very regulated market that has real oversight, that is flexible."
Despite some reservations, Newsom has been an outspoken proponent of marijuana legalization, making him the highest-profile politician in California to come out in favor of legalizing weed, the Los Angeles Times reported. 
Well on its way to full marijuana legalization. Californians are feeling more optimistic than ever about marijuana legalization in their state, which has enjoyed a relatively loose medical marijuana market since 1996, but that has continued to see thousands of residents, mostly minorities, arrested every year for marijuana-related charges. 
Pro-pot groups have submitted six ballot measures for consideration so far, and public opinion in favor of legalization has reached an all-time high. Recent polling by the Public Policy Institute of California showed a record 54% of Californians said they supported legalizing adult marijuana use. 
The effort to rollback marijuana prohibition in California reached a milestone in June when the state permitted one group to start collecting signatures to get their measure before voters in November 2016. "All across the country, but especially here in California, Americans are saying loud and clear that trying to control what people personally consume is an utter waste of limited law enforcement resources," California Republican Rep. Dana Rohrabacher, said earlier this month. "We, the people, can control our own lives, thank you."
Marijuana legalization sweeping the country. California isn't the only state that could soon go green. At least five other states — Arizona, Nevada, Massachusetts, Michigan and Ohio — are expected to vote on marijuana legalization in 2016. 
Still, pro-pot groups have long considered California the big kahuna when it comes to legalization efforts. If marijuana were to become legal there next year, it could be a game-changer for the country, paving the way for other states on the fence about legalization to tip in favor of pot.  
Twenty-three states and the District of Columbia have legalized marijuana for medical purposes. Four of them — Alaska, Colorado, Oregon and Washington — and D.C. also allow recreational use of the drug.