Scientists Put a Camera Into Rhino Horns to Stop Poaching — and the Footage Was Amazing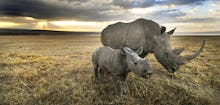 With rhino poaching continuing to threaten the species with extinction, one scientist has developed a novel approach to curbing the problem.
Paul O'Donoghue, a lecturer of Biological Sciences at England's Chester University, is inserting small cameras into the horns of rhinos with the goal of turning them into their own running, breathing poaching alarm. The apparently painless procedure allows rhinos to record footage in real time if they come under attack by poachers. 
"You need to catch the poacher red-handed and that's what we're setting out to do," O'Donoghue told the BBC. The cameras won't be rolling 24/7 but will instead rely on heart-monitoring technology that will initiate recording if a rhino is shot. "It's basically a burglar alarm for rhinos," O'Donoghue said.
Mic reached out to O'Donoghue, who was unavailable for comment. 
Even without its nobler purpose, the camera has already produced some arresting footage of what basically amounts to a rhino's POV cam.
The technology was developed by Project, a British animal welfare nonprofit where O'Donoghue serves as chief scientific adviser. "The figures make it painfully clear — there is no time to waste," Project director Steve Piper said in a statement, adding that rhinos are only the beginning. "We expect to have the first rhino prototypes out within months and are just beginning development on versions for tigers and elephants."
The "rhino cam" is the latest scheme to protect the species that has existed on Earth for roughly 60 million years, but whose numbers have been decimated over the last century by poaching and habitat loss. The Lindbergh Foundation made a splash earlier this year by using drones to help track and protect rhinos and elephants from above. Other ideas have included poisoning rhino horns and even 24-hour armed surveillance. Nothing, however, has been able to bring lasting success, and few rhino poachers are ever brought to justice.  
"Any bit of kit that might help the rangers do their jobs safely and more effectively deserves looking at and testing on the ground," Cathy Dean, the director of Save the Rhino International, told Mic. "I'll be very interested to see the results from this product." Nevertheless, Dean also expressed skepticism saying issues of cost, battery life and practical application would need to be addressed for the cameras to achieve their intended purpose. "I also wonder how a camera will cope with rhinos' love of wallowing in mud and dust." 
Prominent animal rights group PETA also signed on with their support, with the organization's president, Ingrid E. Newkirk, telling Mic: 
"If this new system ensures the capture of rhinos for tracking in the safest, least traumatic way possible, we look forward to seeing one more barrier placed between these majestic animals and the cruel people who kill them for sport or hack off their horns for money." 
The horns are often sent to Asia where they are used in various forms of traditional medicine. One kilogram of the illicit material can fetch as much as $60,000 according to a World Wildlife Foundation report. Save the Rhino reports, according to data from South African Department of Environmental Affairs, at least 1,215 were poached in South Africa in 2014.
Watch the BBC report below: