I Tried Painting the "Perfect" Face According to YouTube — Here's What Happened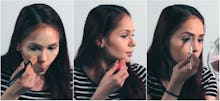 We no longer need plastic surgery to make our faces look more beautiful, according to society's standards. The right makeup can turn us into modern-day Venuses — or, more likely, Kardashian lookalikes.
At least that's the message from today more than 1.2 million beauty tutorials crowding YouTube. The latest viral hit was "clown contouring," a clever takedown that turned into a makeup phenomenon in which women were painting their faces like clowns — complete with an emoji on the forehead — and then blending it in for the ideal look. But before clown contouring, it was baking, and before that there was strobing, all of which were preceded by the granddaddy of them all: contouring. 
I fully admit that I watch almost every video.
But behind all the tips, tricks and videos is a set of simple but powerful beauty ideals. 
High cheekbones, narrow noses, petite chins, chiseled jawlines, glowing skin — throw in plump lips and full eyebrows, and the "perfect face" is only a makeup palette away. These tutorials, whether it's "strobing" or "contouring" or any other trendy new approach, are all supposed to help us meet these standards, in order to look and feel more beautiful. 
With YouTube gurus as my guides, I decided to find out — starting with a bare face and $220 worth of beauty products. 
1. Delicate, chiseled bone structure 
The beauty ideal: Attaining the famous "Golden Ratio," with every facial feature in perfect mathematical proportion, has long been a beauty ideal. Today, that balance includes defined, chiseled features, with a straight nose and defined jawline.
What it takes: That ideal is behind the biggest trend in YouTube makeup tutorials today: contouring. A game of light and shadows, the goal of contouring is to achieve a heart-shaped face through strategically placed makeup. Using a how-to video by Kandee Johnson, I layered darker colors around the edges of my forehead, hollows of your cheekbones, jawline and the sides of my nose. The lighter colors went on my forehead, under my eyes and the bridge of my nose. Then blend, baby, blend! 
The beauty reality:  I completely blanked. What were each of the six colors on the palette for? The sweet woman at Macy's had said one was a "corrector" but I was too afraid to guess. I struggled to create a slender nose (why didn't I have a smaller brush?) and second-guessed every move.
In the end, my skin felt caked-on, albeit subtly blended. I succeeded in literally painting myself a better face. But in the process, I'd also obsessed over trying to perfect every flaw I could find — and could feel the weight of them under the layers of makeup.
2. Glowing, youthful skin      
The beauty ideal: In the last five to 10 years, glowing skin has become an actively-sought beauty goal. Think Jenny from the Block, who nailed the new beauty ideal: a luminous, youthful-looking face. 
What it takes: These days, that glowing (or "dewy") look is achieved via anti-contouring, a.k.a. "strobing." The concept itself isn't actually so new, the beauty adviser at Macy's pointed out to me. As Nikkie, the YouTube sensation whose video served as my guide, puts it, "Strobing is essentially highlighting the shiznetz out of your face." Throw away the bronzer and rely on shimmer powder to highlight your forehead, tip of the nose, chin, upper cheekbone, Cupid's bow, brow bone and the inner corners of your eyes. 
The beauty reality: I have combination skin that's both oily and dry (thanks, Sephora employees, for always reminding me of that fact). As Nikkie advises in the video, getting "glowing" skin via strobing isn't a great tactic for people with oily skin. It also took some meticulous blending to avoid looking like I brushed glitter paint on my face.
All that said, I ended up loving the glowing skin —that is, until I walked outside for lunch and couldn't stop wondering if some kind person would stop me in the street and offer me an oil blotter.
3. Fuller brows 
The beauty ideal: Every generation has gone back and forth on eyebrow styles, but in recent years, models like Cara Delevingne have popularized "brows on fleek." Nailing the perfect eyebrows means your face is perfectly framed and your eyes are emphasized. Who wouldn't want that?
What it takes: The key to plush brows means filling them in with makeup, which requires patience and a light touch. Using one video by Carli Bybel, I followed along instructions to literally outline the desired shape of my eyebrow and then slowly fill it in. A touch of concealer and highlighter above and beneath the brow makes an even clearer outline that reflects light in photos.
The beauty reality: This was the easiest look to recreate, especially since eyebrow pencils are good for getting the fine, straight outline I needed. I had to keep pausing, though, to examine the progress (the last thing I wanted was Sharpie-like eyebrows). Nailing that took serious attention to detail — and a lot of time. Brow perfection isn't easily achieved.
4. Painting on plumper lips 
The beauty ideal: Blame it on the pouty-lipped models in lipstick ads or the fact that plumper lips are seen as more sexually appealing, for reasons scientific and otherwise. Either way, plump lips are the modern standard, epitomized by Kylie Jenner's lips (you know, the ones that inspired the the viral and dangerous #KylieJennerChallenge).
What it takes: While Jenner's lips were actually achieved through injected fillers, the cosmetic way to get them is lip liner. The trick, I learned from a video tutorial from Desi Perkins, is to line slightly above your cupid's bow and below the center of your bottom lip. Trace the line back toward your natural lip line, fill in and apply lipstick. Finally, use concealer to outline your new mouth. Ta-da — bee-stung lips.
The beauty reality: I used my coloring book skills to line my mouth with the lip liner but struggled with my Cupid's bow. Turns out, it's easier tracing a line on a flat surface. After, I found myself hyper-conscious of my mouth and how big my lips looked. I did get some compliments, but found eating to be a hassle. Also: catcalling. When I wore my new lips out that night, I got catcalled so much I wanted to wipe it all off (until I remembered IDGAF).
The upshot of the experiment: I occasionally panicked as I made my way through the different tutorials and wished I had someone IRL to guide me whenever I stumbled. It was a major time-suck too. (No wonder there are professionals for this, helping celebrities look their best from every angle.)
But mastering a technique, with the help of a soothing stranger's voice emanating from my laptop, was a welcome challenge. Days later I found myself playing with my makeup. I wasn't trying "fix" my nose with contouring or line myself new lips. I was, however, confident and eager to experiment with different makeup versions that felt 'me.'
Feeling confident, I learned, is different than looking perfectly "beautiful" with a meticulously-painted face. If that was the point, I'd be painting on new faces forever.
Sometimes, there's something better than striving for the ideal.