Pharrell's New Video for "Freedom" Is His Most Powerful Political Statement to Date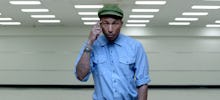 Pharrell Williams cemented his name among some of the protest musicians of the world Wednesday with the video for his latest single "Freedom." Fitting with the song's title, the video presents a series of scenes of what freedom looks like around the world. And the powerful scenes Williams chose turn up the song's ecstatic rebel yell of a chorus — "freedom!" — to a new level.
He sings in front of a group of miners being goaded on by an armed guard in military fatigue:
With a group of heavily made-up models taking off their wigs:
And Williams still manages to keep his sense of humor about him, re-enacting the Tiananmen Square protests:
It demands freedom in its every incarnation. "Freedom" may be Williams' the most direct and powerful protest statement to date. But it's hardly the first time Williams has used his music to make a political critique.
Last year, Williams' "Happy" became an unexpected protest anthem when it spawned a series of videos made by people under troubled regimes around the world. Directors in Ukraine spliced the song over footage of Ukrainian citizens clashing with government forces during that uprising. Filmmakers in Tunisia used the song to find hope in the aftermath of the Arab Spring. And during his performance at the 2015 Grammy Awards, Williams included a proud hands-up salute to #BlackLivesMatter, which many who couldn't look past his silly bellhop costume, missed.
"Freedom" picks up on these social and political themes of liberation and brings it to the forefront of the throwback sound Williams' has been cultivating in recent years. It's exactly the kind of song we needed from one of our most prized and subtly subversive hit makers. Check out the video below.