The Secret Behind the Success of These YouTube Stars Isn't as Mysterious as You'd Think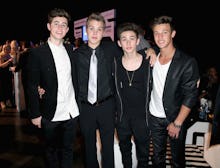 "Why is this person even famous?"
You could argue this for every modern teen heartthrob. Nash Grier, Cameron Dallas, Tyler Oakley, Joey Graceffa, Jenna Marbles, anyone you can name — teens are obsessed with them, and yet they seem to do ... well, not much of anything.
They answer inane questions from YouTube comments. They make videos parsing sensational "gossip" among other digital celebrities. Maybe there's an occasional video about feminism. Then you see the numbers: 5 million subscribers for this channel, 15 million on another.
What's the secret?
Accessibility is their talent: Vine, YouTube, Instagram and live-streaming are the New Hollywood, and if you're not accustomed to the new face of fame, it can be hard to discern exactly what makes these kids stand out.
Still, you want to feel included in their lives, to live vicariously and feel as though they're your friend or proxy significant other. That's why their seemingly directionless videos are so popular: They resemble courtship and get-to-know-you games. This is, in essence, what a certain kind of YouTube sensation is: an interactive heartthrob or sardonic wit you can imagine is part of your life or friend group. 
And YouTube stars do so much more than film videos. They go on follow-back sprees, dive into their comments, do live-streaming sessions on YouNow. It's easy to look at a video feed and fall into the trap of thinking that YouTube stars are making a living just talking about nothing to anyone who will listen. But the heavy lifting isn't in the content so much as the outreach.
It's the bottom-up approach to the idea of "talent." Start with someone who can build a fanbase, and then help them figure out what they're going to deliver. They don't need to impress anyone — all that comes with time.
"Ultimately, the hardest part is audience. The rest can be reverse-engineered."
The modern boy band: Meridith Valiando Rojas is the founder of DigiTour, a national tour for social media celebrities with live performances and opportunities for these cult figures to meet their swooning fans — a tour that includes teen sensations like Lohanthony and rappers Jack and Jack. A tour that Valiando Rojas says has "no credible competitor." It is the game-defining live event for digitally native stars.
"Our audience is 99.9% teen girls who are incredibly in love with the talent," Valiando Rojas told Mic. "It's the boy band phenomenon. They're fainting and hysterical."
See, the fact that they don't identify as a "singer" or "actor" isn't as important as their perceived swoon-worthiness. That they draw a crowd, inspire familiarity and desirability is precisely their talent; the other trappings of traditional stardom are secondary. This allows them to be flexible. Many of these stars are in their early teens and still determining how their public profile will coalesce into some sort of exit into even more mainstream stardom.
"You can't look at the industry anymore and say, 'I just want to be a musician,'" Alan Spiegel of 26MGMT told Mic. Spiegel manages titanic young talent, like top Vine star Nash Grier and YouTuber Cameron Dallas. "You have to be able to potentially meet fans, go on tour, be in a movie." We want someone who might come in wanting to be a musician, but be able to say, 'It might not be working right now, so I'm open to possibilities.'"
Watching stars come into their own and discover and explore new talents lends to their authenticity. As a follower, you get to watch them experience their newfound fame, one day at a time. Part of the appeal for early Bieber fans, after all, was getting to be there to support him during his rise to prominence. The adolescence and interpersonal clumsiness of these stars makes them even more endearing.
"To build a channel, to find who you are when you don't know yet — that's the promising part of the digital world today," Spiegel said. "And you can amass millions of followers without relying on a network or studio saying 'We want you or we don't want you.' You don't need to wait for a call."
How stars are discovered — and how they're made 
Is there a magic metric to gauge a star's success? We asked the managers and talent agents whose job it is to discover these talents for one clear takeaway. Is there an amount of likes, subscribers, hearts, followers, shares or thumbs-up icons that can predict success? Some secret ingredient? A hairstyle?
Spiegel said that followers, likes and other simple numbers were terminally uninteresting. The key, he says, is how that star's audience behaves — if they're locked in and ready to rally like an army for that celebrity's cause. One good indicator is if they're successful in multiple places, like a strong presence on YouTube and Vine, Twitter and Snapchat.
The key, he says, is how that star's audience behaves — if they're locked in and ready to rally like an army for that celebrity's cause.
"Can they drive traffic on a new platform? Can they sell tickets on a tour and merchandise? Will people show up at a location and have fans come and meet them?" Spiegel told Mic. "That's how you know if it's an audience, or more than an audience — if it's really true engagement and following."
Then, they begin amplifying each other: One someone has a following and attract some kind of management, they typically fall into a kind of loosely organized cartel of other creators — this is when collaborations begin. Sometimes they end up with a major multi-channel network like Maker Studios (a top shepherd of social media talent), artists affiliated by common management like the 26MGMT or simply a group of geographically similar independent YouTubers who know each other through live events and comedy troupes.
Take Tyler Oakley, a self-professed full-time fangirl and YouTube cottage industry, for example. Oakley's channel for "Collaborations With YouTubers" has 120 videos in which he lets various potential inductees of the YouTube illuminati step onto his gigantic stage for a moment.
"Cross-pollination is very important," Spiegel said. "When we take someone on, they might put out a song and collaborate with one of our bigger guys. That's how the big guys help the small."
This cross-pollination leads to another artificial intimacy and authenticity. You get the notion, by watching and commenting, that you're vicariously entering a friend group. The fandoms for these individuals begin to blend in, people take sides in barely-there drama — it's like the WWE, only instead of playing out an imitation of professional wrestling, it applies the same theatrics to early high school drama.
These kids give themselves over to the rule of their followers. By participating in their life, you're afforded one of a thousand strings that make the puppet dance. Events like DigiTour become the interpersonal embodiment of this kind of adolescent sociology at scale. BuzzFeed's Ellen Cushing shadowed the stars on their tour and gave witness to the madness, the way each of the girls fell on the object of their affections like sparrows, taking their selfies like mementos with which to build their own digital nests:
The interactions themselves are about 30 seconds long. First, the boy offers a greeting and, often, some kind of compliment. Sometimes the girls ask questions; sometimes they're too stunned to say anything at all. The ones hoping to be discovered sing. Then there's the picture: Most girls opt for a hug or a kiss on the cheek, but some go bigger and more theatrical[...] 
Valiando Rojas says that this part — the one-on-one interaction, the laborious clientele-ing, handshaking, cheek-kissing, DMing — is the key to new fame's potency. 
The values of the "Centennials"... or Gen Z... or whatever you call them: For a decade, everybody with something to sell has been digging their heels into social media trying to access and audience, generally by flooding social media and building a presence. 
While it's generally trite and obnoxious to generalize about an entire emerging generation, something we can at least derive about kids-these-days is that they want to be able to reach back — and they expect a response. Not from the Taco Bell Twitter account, but from a real person they're familiar with. Someone with a voice and eyes that stare back from the camera. Someone their own age, who feels like a friend or a crush.
"It's like World Wrestling Entertainment, but with early high school drama."
"This is something that Gen Z is used to — they expect the media they're consuming to talk back to them," Valiando Rojas told Mic. "If we make a mistake, they will let us know instantly. They expect us to explain why something didn't go right.
"There are people out there who say they don't have talent, but they've figured out the hardest part," she added. "Because ultimately, the hardest part is audience. The rest can be reverse-engineered."