Here's Everything We Know About the First Episode of 'I Am Cait'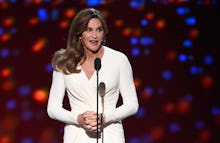 The anticipated first episode of I Am Cait is just around the corner. 
The series, scheduled to air Sunday, July 26, on E! at 8:00 p.m. EST, centers on Caitlyn Jenner, whose recent gender transition has been as much a source of tabloid fodder as it has been an inspiration to many. 
In true E! reality fashion, there's been a lot of hype surrounding the upcoming docuseries I Am Cait, but critics have said it's much different than its predecessor, Keeping Up With the Kardashians. The show is expected to serve as a platform for Jenner to talk about issues facing transgender communities and about her struggle to come to terms with her own identity. 
Jenner has said she has discovered a newfound joy in her transition, but that it hasn't been without its growing pains. "You go through all this stuff and you start learning kind of the pressure women are under all the time about their appearance," Jenner says in a trailer for the show. 
Jenner attended a special screening of the first episode of I Am Cait in Los Angeles over the weekend, where she met transgender actress Laverne Cox, known best for her role in Netflix's original series Orange Is the New Black. Cox has supported Jenner during her transition, but the pair had reportedly not met face-to-face prior to the screening.
Ahead of Sunday's premiere, here's everything we know about the anticipated first episode of I Am Cait.
Jenner's mother will play a prominent role in the episode. Esther Jenner has admitted her daughter's transition from male to female has been something of an adjustment for her, according to Variety. 
In the episode, Esther Jenner sees the younger Jenner for the first time in a dress. "I think he's a very good looking woman," she tells producers, USA Today reports. "And he's still Bruce. It's a lot of getting used to. But I will."
Kim Kardashian and Kanye West drop by Jenner's Malibu pad. The celebrity couple spend some time with Jenner and her family, with Kardashian making a beeline for Jenner's revamped closet. 
Jenner admits she had suicidal thoughts before her transition. The reality star struggled living as Bruce, and says there were times she thought about ending her life. 
"I've been in some dark places, I have been in my house with a gun and said, 'Let's just end it right there, no more pain, no more suffering, that struggle, it's real and I've been there," Jenner confesses in the episode. 
Kylie Jenner and Caitlyn Jenner meet via FaceTime. The cameras catch Caitlyn Jenner and her youngest daughter, 17-year-old Kylie Jenner, meeting each other for the first time via the mobile app while Kylie is at the dentist. At the sight of Caitlyn, Kylie exclaims, "You look so pretty!" according to Us Weekly. 
Jenner meets the family of a transgender teen who committed suicide. The network taped the show around the time 14-year-old Kyler Prescott, a transgender boy from San Diego, took his own life. Jenner joins Prescott's family and friends for a memorial service in San Diego, Us Weekly reported.