One Tweet Sums Up the Irony of Taylor Swift's Fight Against Nicki Minaj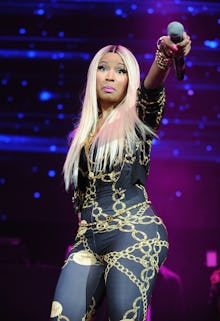 Two of music's biggest stars set off a social media war zone Tuesday night when Taylor Swift responded to Nicki Minaj's tweet about the "women with very slim bodies" who seem to be earning all the MTV Video Music Awards nominations. Swift appeared to take the tweet personally and fired back saying, "it's unlike you to pit women against each other." 
But throughout the back and forth, one ironic point was being overlooked:
The tweet was in response to Swift's response to Minaj:
Throughout the exchange, Swift said she doesn't want to pit women against each other, but as the Twitter user pointed out above, Swift's nominated video does just that. The video for "Bad Blood" is literally about two groups of women going into battles.
Though never officially confirmed, many speculate the message is about Swift's rivalry with Katy Perry.
Whether the music video is actually directed toward Perry or not, Swift still manages to pit every "It" girl in Hollywood into one mediocre mini action-thriller film against each other, in an attempt to take our #squadgoals to a whole other level. However, many feel that the video pails in its attempt to strengthen feminism and female sexuality.
And we all know how much Twitter loves irony. 
Swift and Minaj are both up for various awards for the VMAs, which is set to air at 9 p.m. Aug. 30. We'll have to wait until then to see if Minaj is planning on pulling a Kanye and accept the award for video of the year even though she's not up for it, as she promised Twitter she would Tuesday night.