McDonald's May Be Releasing All-Day Breakfast Nationwide as Soon as October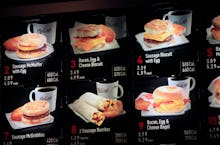 If breakfast is considered the most important meal of the day, then this is easily the most important news you will read today.
A memo released by fast-food giant McDonald's and obtained by the Wall Street Journal calls on franchise owners to prepare for breakfast to last all day as early as October. 
The company has been testing all-day breakfast options in select markets following a growing demand for the breakfast menu to be extended past the 10:30 a.m. time frame. NBC reports McDonald's has tested all-day breakfast in San Diego, California, and throughout Nashville, Tennessee. 
Because of limited grill space, the food chain has stated it would be difficult to maintain all-day breakfast options nationwide. McDonald's recently released this statement after rumors surrounding all day breakfast went viral, according to NBC: 
"Serving all-day breakfast is likely the number one request we hear from McDonald's customers. We're testing it out in a few markets to learn more about this possibility. We know your mouth is watering, but there's no news on this yet."
McDonald's breakfast has been widely recognized as just about the greatest fast-food breakfast of all time, and the news has come as a great joy to many:
The move to incorporate endless breakfast nationwide comes as McDonald's is posting some sour losses in its global company earnings. The food chain has lost a dramatic amount of revenue and popularity, in part thanks to some major protests concerning workers' pay, food safety and using antibiotics in meat products, as well as the longer wait time for a McDonald's order, especially as compared to growing chains like Chipotle. Plus, as younger customers look for healthy options, McDonald's and its notoriously unhealthy menu are losing customers. 
 A 24-hour breakfast option could be the key to McDonald's re-establishing itself among competitors as the food chain to beat — just not before you've had your breakfast.