Here's Why LeBron Signing With Warner Bros. Means 'Space Jam 2' Could Finally Happen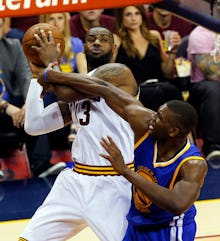 Warner Bros. has partnered with basketball star LeBron James and his business partner Maverick Carter to produce movies and TV shows. This might not sounds like it means much to the average non-King James super fan, but it could actually mean the studio's 1996 comedy Space Jam, starring Michael Jordan, could finally get the reboot it deserves, according to The Wrap: Space Jam 2 starring LeBron James.
Adding more fuel to the speculation fire, as Sports Illustrated pointed out Wednesday on Twitter, Warner Bros. filled new trademarks for Space Jam last month:
It's long been rumored that Warner Bros. has had a screenplay for Space Jam 2 in the works and has been eyeing James to play the lead role. The partnership, announced Wednesday, could signal a sequel to the first animated-and-live-action hit, in which Jordan had to save a bunch of Looney Tunes from alien enslavers by playing a game of basketball. The groundbreaking film raked in a hefty $230 million for Warner Bros, according to Esquire. 
The studio said it had high hopes for the latest deal with the basketball star. "LeBron James has one of the most powerful, well-known brands in the world and we are excited to be in business with him and his partner, Maverick Carter, and SpringHill Entertainment," Warner Bros. chief Kevin Tsujihara said of the partnership, according to Deadline Hollywood. "The combination of LeBron's global media presence and Warner Bros.' unmatched production and distribution expertise is a big win for fans everywhere."
He added the studio was "excited" to pursue projects "across a variety of platforms."
James' nascent acting career recently began with a role opposite comedians Amy Schumer and Bill Hader in Trainwreck, directed by Judd Apatow and in theaters currently. 
"Connecting with my fans and telling meaningful stories have always been my passion," James said of the Warner Bros. deal, according to Deadline Hollywood. "In everything I've done, from Nike commercials to Uninterrupted and Survivor's Remorse, it's always about connecting with people of all ages and providing unique content they can all enjoy. And I've always loved movies, which makes Warner Bros. the ultimate partner to help us continue to push the envelope. I can't wait to see what we come up with."
Space Jam has long been a fan favorite movie, combining winning elements of the Looney Tunes, NBA all-stars Michael Jordan, Larry Bird and Patrick Ewing, as well as Wayne Knight and Bill Murray and the voice talents of Danny DeVito. 
In fact, whether by mistake or by design, the movie's original 1996 website is still operational: