This NFL Player Is Taking a Powerful Stand Against the "R-Word"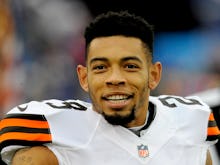 ESPN released a short video about Joe and Jacob Haden. Joe is an NFL cornerback for the Cleveland Browns. Jacob, his younger brother, is Joe's biggest fan, but has from a cognitive disorder that limits his speech and language capabilities.
Their affection for one another — and the story of their upbringing, marked by Joe's unflagging sense of responsibility for his brother's well-being — is the emotional centerpiece of Joe's involvement with the Special Olympics, which start this weekend in Los Angeles, and for which Joe is the first NFL player to be named a Global Ambassador.
The 26-year-old's commitment to helping people with intellectual disabilities is a sterling example of how sports can be used to raise awareness around such underaddressed topics.
Among Joe's aims is to eliminate use of the derogatory term "retarded," or the "R-word." He recently partnered with the "Spread the Word to End the Word" campaign, which allows supporters around the globe to make written pledges and share stories about why they've chosen to stop using the term, and worked Radio Row on the sidelines at the most recent Super Bowl to draw attention to it, according to ESPN.
"Open up your vocabulary, people," Joe told ESPN. "The R-word is hurtful, hateful and ignorant."
In taking this stand, Joe joins the millions of other Americans whose interest in eradicating the word stems from having a family member with an intellectual disability.
As Mic has previously reported, the word's most common usage does not refer to people with cognitive disorders but rather is used to demean and ridicule perceived inadequacies in others by linking them to these actual medical conditions:
This is a problem. As was demonstrated in an April episode of Mic's "Flip the Script" Web series, the casual cruelty of this term is exposed the second it's presented to someone actually affected by such disorders.
"It's not a harmless thing," Margaret, whose son Paul has Down syndrome, told Mic's Elizabeth Plank. It's "hurtful and disrespectful." Many people with cognitive disabilities have also come forward and expressed how hateful and belittling the R-word is to them.
Joe Haden's story of living with and loving a family member with a cognitive disorder is the kind of personal account this subject needs to touch the broadest possible audience. It's one thing to debate the R-word in abstract, theoretical terms. Hearing the stories of actual people affected, however, makes the right thing to do abundantly clear.
But Joe's involvement with the Special Olympics brings his advocacy to another level. Since 1968, the event has united participants from around the world in support of people with cognitive disorders, boasting more than 30 sporting events and a variety of trainings, health screenings and fundraising events. 
The Special Olympics website also claims it is "the world's largest public health organization for people with intellectual disabilities" — citing the 1.6 million free health care examinations and other such services they provide for the many athletes who come to them with "neglected health problems."
By throwing his weight behind this event, Joe — whose brother Jacob is also a Special Olympics athlete — is setting an example for professional athletes and everyday people alike. And he hopes the rest of the world will follow suit.
Watch ESPN's video here or below:
h/t ESPN