Here Is the First Look at 'Empire' Season 2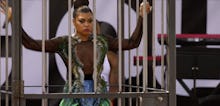 Fans of Empire, rejoice: Fox just released a teaser for season two, and the show looks to live up to the explosive hype the first season created.
The 30-second trailer released Wednesday afternoon reveals some serious twists. Empire's frontman Lucious Lyon is in prison garb and behind bars, sexual tension is heating up between Hakeem and Lucious' (ex?) fiancé and Jamal is performing concerts to support the release of his father (spot the #FreeLucious stage background). 
Empire was a massive success in its first season, eventually garnering an audience of over 21 million viewers by  finale time. The show's success helped Fox establish itself as one of the most watched networks on TV last year, surpassing many of its competitors.
Clearly, a lot has gone down in the empire since we've last tuned in. Fans will remember the intense finale to season one, where Lucious punched Hakeem in the face, Uncle Vernon died and Lucious was arrested for Bunkie's murder — but nobody knows who ratted him out. 
Empire returns to Fox on Sept. 23, and by the looks of it, is going to be just as explosive as the first season. Can we get a #FreeLucious hashtag trending in anticipation of the first episode?
Check out the trailer for season two below: