How the Weeknd Accomplished Something No Other R&B Artist Has Ever Done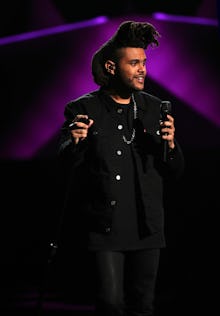 The Weeknd has officially became a legend. 
By simultaneously claiming the three top spots on Billboard's Hot R&B songs chart, he has accomplished something no other R&B artist has ever done. But characterizing him as an R&B star, while not inaccurate, is limiting. The Weeknd is so much more than that.
And he's first to admit it. Born Abel Tesfaye, the Weeknd pulls equally from trip-hop, down-tempo indie and electronica to create his sound. "The only thing R&B about my shit is the style of singing," he told Complex in his first interview in 2013. "My inspiration is R. Kelly, Michael Jackson and Prince, for the vocals anyway. My production and songwriting, and the environment around those vocals, are not inspired by R&B at all." 
The Weeknd, now 25, has built himself into a reliable creative powerhouse. He had a vision for a new sound and he brought it to life. His story is an inspiration to anyone who's ever desired to push boundaries.
Realizing his vision. Tesfaye began his work building his artistic persona when he dropped out of high school at 17 years old, convincing a member of his crew, Lamar, to join him. "We grabbed our mattresses from our parents threw it in our friends shitty van and left one weekend and never came back home," Tesfaye wrote on Reddit.
The things he saw helped him build the persona that would become the Weeknd. "I'm so used to hardly ever sleeping and roaming the streets of downtown Toronto with no care or motives in life," he told MTV. "Little did I know it would help create this character of my songs that I left behind the first day I became known for my music."
That fateful drive inspired the stage name. He released his first few tracks to YouTube under the name the Weekend in 2010. But later he had to drop the "e" because a Canadian pop-rock band had beaten him to it. Toronto rapper Drake picked up on his sound and posted to his OVO blog, and his unique sound began to swell in popularity, earning him reviews in the New York Times and Pitchfork. However, he didn't do his first full interview until three years and three mixtapes later, in 2013.
In that interview, he told Complex his air of mystery was only partially intentional. "In the beginning, I was very insecure. I hated how I looked in pictures. I just fucking hated this shit, like, crop me out of this picture right now. I was very camera shy," he said. "The whole 'enigmatic artist' thing, I just ran with it. No one could find pictures of me. It reminded me of some villain shit. But you can't escape the Internet."
Waiting for the Weeknd. The Weeknd is notoriously secretive. For most of his career, he let his music speak for itself. But when he landed his first major label deal in 2013, he revealed himself as Abel Tesfaye, a high school dropout of Ethiopian descent, and began to tell his story.
Tesfaye grew up in Scarborough, Ontario, an Eastern district of Toronto, and was raised by his grandmother until he was 5 years old. As he told fans in a Reddit AMA, his dad was not part of his life and his mother was always working. The first language he ever learned was Amharic, a Semitic language spoken in Ethiopia, which he's still fluent in.
His Ethiopian heritage has become more central to his music. On his recent single, "The Hills," he included a snippet of a woman singing a syrupy Amharic lullaby. "Ewedihalew, yene konjo, ewedihalew / yene fikir fikir fikir, yene fikir fikir fikir," she sings, which Pitchfork translates to: ""I love you, my beauty, I love you / my love love love, my love love love."
The dystopian and debauched stories of heartbreak, sex and drugs are a far cry from the lyrics of more traditional Ethiopian pop artists. But this is the life Tesfaye knows, and a freedom that he relishes. "I can say 'Pussy-ass nigga' in the most elegant and sexiest way ever, and it's accepted," he told Complex. "If I can get away with singing that, I'm doing something right." He insisted in his 2013 Reddit AMA that all his stories come "loosely" from his own experiences.
Now the world is his. The Weeknd's secrecy has only increased the world's fascination with him and his music. He's collaborated with Ariana Grande, Wiz Khalifa and Drake, taking their music in enticingly experimental directions. Tesfaye was involved with much of the creative direction of Drake's Take Care, to which he contributed "Crew Love," "Shot for Me" and "The Ride," which were meant for his own House of Balloons, and "Practice," which he wrote for Drake.
But though he's started to become more visible and share more of himself, he still insists the music comes first. He's determined to continue to push boundaries no other artist would feel comfortable touching. "Once you've changed who you are or who you've portrayed in your music, the fans, they'll catch it," Tesfaye said in a video shared with MTV. "Once I feel like the world knows me for anything else but my music, then I feel like I failed."