Katy Perry Joined the Taylor Swift-Nicki Minaj Feud With One Wild Tweet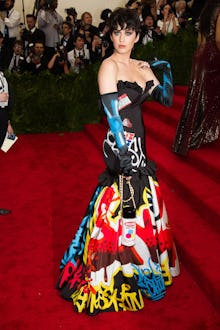 As if the Taylor Swift and Nicki Minaj Twitter feud wasn't wild enough, Katy Perry has entered the fray — and she's swinging for the fences.
In a tweet sent less than a full day after the Great Swift-Minaj War of 2015 began, Perry subtweeted Swift and called her out for her hypocrisy. Unfortunately, she did it a bit incoherently.
The tweet is hard to decipher thanks to some missing quotation marks and the misuse of "unmeasurably" versus "immeasurably," but the point of her tweet is simple. Perry is rejecting Swift using the "women against other women" argument from her tweet Tuesday when Swift's video "Bad Blood" — the video in question — is for a song purportedly about the two singers' 2014 feud.  
This is a philosophy Swift has espoused before, quoting Madeleine Albright (and mistakenly attributing it to Katie Couric) when talking about Amy Poehler and Tina Fey's joke about her at the 2012 Golden Globes. "There's a special place in hell for women who don't help other women," she told Vanity Fair in a cover story.
But, as was noted far and wide within the last 24 hours, that philosophy is pretty hypocritical.
To hear that criticism come from none other than Perry herself is pretty incredible. Also incredible: imagining Perry waiting nearly 24 hours to tweet this. She played the long game on this one.
Perry also took the chance to lament another VMA snub: the failure to recognize Rihanna's "Bitch Better Have My Money" video. It was within the eligibility window to be nominated but failed to connect. As Perry asked, "Where is the shine?"
As one Twitter user noted, Perry is just here to sip some tea and tell the truth.
Meanwhile, over in Minaj's camp, the singer posted a message thanking several news outlets for helping her "make a very obvious point." That point, of course, was about the double standard in awarding other revolutionary videos that celebrate traditional beauty instead of curvy bodies.
Though it's only been 24 hours, the turn against Taylor has been, well, Swift. She's got a hornet's nest mad at her now, and it keeps getting worse with every new participant in the brawl.
So we can probably expect her self-penned song about the debacle in a few weeks, right?