A Viral Video of a Texas Police Officer Using a Taser on a Black Man Has People Outraged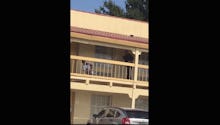 A video of a police officer using a Taser on 26-year-old black man Marcus Coleman in Denton, Texas, was recorded and posted on Twitter on Wednesday and has gone viral overnight. It shows Coleman verbally objecting to the way a second officer was handling his female acquaintance. As the woman cries out "please" on the ground, the mobile recording captures Coleman yelling "she needs help" before the officer uses a stun gun on him. However, footage of the officer's body camera released the following day shows Coleman attempting to run past the officer before he was Tased.
The video, posted at 5:41 p.m. Wednesday, had almost 11,000 retweets and more than 5,000 favorites by Thursday morning.
Jeremy Jones, 18, is believed to have posted and filmed the video, which took place at a Motel 6. Police were allegedly responding to an indecent exposure complaint. 
"The caller stated there was a naked female carrying a baby in the back lot of the complex," a Denton Police Department press release stated. When officers arrived, the woman was reportedly "wrapped in a blanket" and in an "altered mental state," so "the officers decided to place her in handcuffs for her safety."
While one officer repeatedly yells at Coleman to "back up," Coleman pleads with the other officer to be less aggressive with the woman. When the officers don't respond to Coleman's requests, he ultimately tries run past one of them, at which point he's Tased. "When the male [Coleman] tried to get past the officer, he deployed his Taser," the statement reads. 
Police also detained Coleman, and two small children were removed from the scene. 
A seemingly endless slew of social media users expressed outrage at the video.
The video came two days after the announcement that the controversial alleged suicide of Sandra Bland, a black woman who died in police custody after failing to signal when changing lanes, would be investigated as a murder. Social media has been in a frenzy, demanding accountability surrounding Bland's death, prompting the creation of the #IfIDieInPoliceCustody hashtag campaign speaking out against police brutality in the country.
July 28, 2015, 5:29 p.m.: This article has been updated.