Drake and His Producer Respond to Meek Mill's Ghostwriting Accusation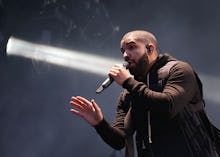 While half of the music world was caught up in the Nicki Minaj-Taylor Swift feud and deciphering Katy Perry's confusing entrance, the other half was wrapped up in the Meek Mill-Drake beef. On Tuesday, Meek Mill accused Drake of using ghostwriters to pen his hits. He specifically targeted Quentin Miller. This treasonous offense has sent the hip-hop community scrambling to take sides. 
On Wednesday, Drake's inner circle responded. 
In an Instagram post, Wild 'N Out's Hitman Holla shared a snippet of conversation between him and Drake, aka Champagne Papi. While Drake doesn't explicitly deny the accusations, he accepts the shade as being one of the casualties of "greatness."
Stoic: However, Noah "40" Shebib, producer and cofounder of Drake's OVO Sound label, did not want the defense to rest like that. Shebib took to Twitter and posted a veritable treatise defending Drake's genius. He acknowledges that Miller — referred to as "Q" — was involved with the creation of If You're Reading This, It's Too Late. 
But he slyly shifts the attention away from the ghostwriting charge, arguing that an integral part of being a masterful songwriter is having the ability to recognize the qualities of other songs. He points out artists from other genres take songs from other writers all the time, without any flak. With that precedent in mind, Drake is following the same working model artists from Motown up through Beyoncé have used.
The end: Shebib's claims hold true. Drake has brought a new level of personality, vulnerability and honesty to his music. He has expanded the emotional palette that rap tracks draw from liberally. 
If we're laying it all out in the open, Drake is far from the only rapper who's relied on ghostwriters. Kanye West is rumored to have dabbled and Dr. Dre almost certainly has; Nas and Fat Joe may have as well. It's biggest crime in hip-hop, but it's also one of the most common. As long as Drake keeps coming out with inspiring, genre-pushing music, it doesn't matter how many cooks were in the kitchen.
h/t Smoking Section