In One Tweet, Bernie Sanders Says What We're All Thinking About Sandra Bland's Death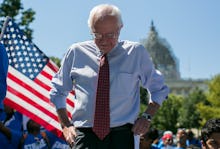 On Wednesday, Bernie Sanders wrote a tweet that captured the crux of what seems to be troubling so many people about the death of Sandra Bland: What if she hadn't been black?
After both the police car dashcam footage and passerby video were made public, many questioned what appeared to be an overly aggressive treatment of Bland for a relatively minor traffic violation (not signaling properly when changing lanes). 
When Bland was arrested July 10, she and state trooper Brian Encinia quickly found themselves in a heated conversation that involved the Encinia pulling out his Taser and threatening to "light [Bland] up."
Off-screen, Bland is later pushed onto the ground where she can be heard screaming, "You're about to break my wrist, stop! ... You're a real man now, you just slammed me, knocked my head into the ground, I got epilepsy, you motherfucker." Bland later died in police custody of a reported suicide, however, due to suspicious circumstances, the case is now being investigated as a possible murder.
As racist police brutality continues to be an undeniable problem in the United States, the number of stories like Bland's keeps growing. But as Sanders says in his tweet, it's difficult to imagine a white women being pulled over for a minor traffic violation receiving the same treatment or even ending up in jail.
Along with his tweet, on Tuesday, Sanders issued an official statement on Bland's death, suggesting it was indicative of systemic racism in the justice system. 
"This video of the arrest of Sandra Bland shows totally outrageous police behavior. No one should be yanked from her car, thrown to the ground, assaulted and arrested for a minor traffic stop," Sanders wrote. "The result is that three days later she is dead in her jail cell."
Fellow Democratic presidential candidate Hillary Clinton also weighed in, writing in a Facebook post Monday, "Everyone in this country should stand firmly behind that. We need to acknowledge some hard truths about race and justice in this country ... Black people across America still experience racism every day."
"I thought he was so aggressive," GOP candidate Donald Trump said in an interview with Anderson Cooper on Wednesday, agreeing with his fellow candidates. "I didn't like his demeanor." Trump then conceded this kind of thing "probably does" happen to black people more than other racial groups.
Entrenched racism will likely be a hot-button issue during the presidential race, given the string of black deaths as a result of disproportionate responses from law enforcement in recent years — often when victims of police brutality hadn't committed a crime in the first place.