Sandra Bland Had Previously Attempted Suicide, According to Police Documents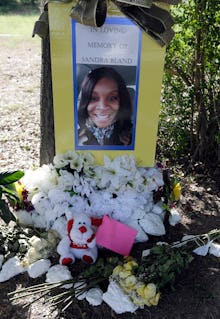 Sandra Bland, the 28-year-old African-American woman who died mysteriously in a Waller County, Texas, jail cell three days after she was pulled over and arrested for a routine traffic violation, had previously attempted suicide, according to a jail screening form released Wednesday has revealed, the Washington Post reports. 
On the form, Bland said she felt "very depressed" on the day she was booked and that she was on Keppra, an epilepsy treatment, at the time of her arrest on July 10. The screening, carried out by a jail staffer, indicated Bland had attempted suicide with pills earlier in the year after she lost a baby.
Prison guards discovered Bland dead in her cell at Waller County Jail on the morning of July 13. Officials initially ruled her death a suicide by hanging, however authorities announced Monday they were treating it as a murder investigation. 
The changes came amid increased scrutiny from Bland's family and friends who said the idea the young woman had killed herself was "unfathomable," with some suspecting foul play. Many who knew Bland said the death-by-suicide narrative simply didn't fit. 
"We know for a certainty that before she went into that jail, she was ecstatic," Bland family attorney Cannon Lambert told reporters this week, according to CBS News. Bland had been in Texas interviewing for a possible new job at her alma mater, Prairie View A&M University. "She had left messages with her loved ones and that just does not jive with someone who would take her own life." 
The messages included a voicemail on a friend's phone in which she voiced her frustrations with being arrested for what she considered a minor incident. "I'm still just at a loss for words, honestly, at this whole process," she said on the voicemail, according to KTRK-TV. "How did switching lanes with no signal turn into all of this, I don't even know." Authorities claimed Bland had become combative with the arresting police officers. 
Bland's death has sparked a nationwide conversation about violence against black women in America. Many have raised the concern that Bland died in custody because of a confrontation with police and that authorities had tried to cover it up by labeling her death as a suicide. 
Bland has joined the growing list of black women who have died because of apparent confrontations with police. Bland herself had spoken frequently about police brutality against black Americans and was considered an activist in the realm of social justice. Social media users have rallied around the young woman with hashtags like #JusticeForSandraBland, #SandraBland and #BlackLivesMatter.