This Was Jake Gyllenhaal's Unbelievable 'Southpaw' Workout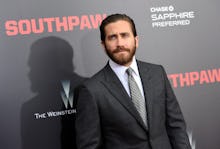 For his latest role in Southpaw, Jake Gyllenhaal underwent a major physical transformation from a creepy Nightcrawler to a trained lethal weapon for a boxing flick originally conceived by Eminem and starring Gyllenhaal and rapper 50 Cent.
Gyllenhaal, who plays the reigning Junior Middleweight Boxing Champion of the World, told the Independent his intensive two-a-day training sessions to get into boxing shape were grueling, to say the least.
"I was just terrified that I would look like an idiot in the ring," Gyllenhaal said. "I didn't know how to box when I started. I had five months to learn, and I know that it takes me a long time to learn a skill, and also to come across like I've been doing it since I was 6 years old."
At first, Gyllenhaal spent an hour and thirty minutes on each training session, including two sets a day of 1,000 pushups. E News reports the star decided to up his workout, two months into training, to six hours a day: three hours of boxing every morning, followed by three hours of strength training, conditioning and cardio each night. 
"I decided to train twice a day so it would give me an advantage, and it would seem like 10 months of training. It's difficult for me to use words like hard or miserable when I'm talking about a movie where really I feel grateful for the opportunity," the actor said.
This quest to pack on muscle was the opposite of the transformation Gyllenhaal undertook for his last film, Nightcrawler. The star shed 30 pounds to achieve the slender, somewhat eerie look of the main character, who had a thing for filming real-life tragedy, according to Variety.
Variety reports Gyllenhaal decided to make a professional transformation as well, when he stopped signing onto blockbuster hits like Prince of Persia in order to work with directors who propelled him into new experiences. Rotten Tomatoes users haven't exactly been heralding this most recent film as a blockbuster summer movie, but have noted Gyllenhaal's dedication to his role and body transformation.
The radical change in Gyllenhaal's appearance is just one of many recent Hollywood transformations making waves in the movie industry. Tilda Swinton, whose entire career has been a game of metamorphosis, recently appeared in like an entirely different human being for her role as Amy Schumer's character's magazine editor in Trainwreck.
Other leading men have also gotten into the body-changing game. Christian Bale, who has gone from looking like a walking skeleton for 2004's The Machinist to an absolute hunk in 2005's Batman Begins, repeatedly transforms his body to fit the various roles he takes on for the silver screen.