Ahead of 'I Am Cait,' Here's What Caitlyn Jenner's Been Up to Since Coming Out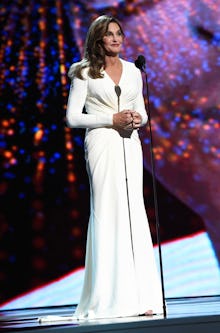 The pop culture stars of 2015 have come to prominence not just for being entertaining, but for having a greater social impact. Amy Schumer, arguably the biggest breakout star of the year, uses feminism and the debunking of misogynist power structures as major themes in her work. Yet no celebrity is more exemplary of that intersection of social justice and entertainment this year than Caitlyn Jenner.
Now, with the athlete and trans activist's reality show debuting on E! this Sunday, that's about to become truer than ever. Early reviews are glowing, saying the show is both entertaining and important. It's a chance for Jenner to crystallize her mission: to make her experience a positive one for others.
So far, she's nailing that with flying colors. Here's Jenner's journey since coming out so far — and where she's headed next.
1. She came out to Diane Sawyer.
In a groundbreaking interview, Jenner came out as trans to Diane Sawyer on prime time. The interview was impressive not just for its historical nature, but for how well both Jenner and Sawyer did in striking a tone of education. Every minute of the two hours was responsible, informative programming.
"We're going to make a difference in the world with what we're doing," she said during the interview. This was before we even knew the name "Caitlyn" — she still preferred to be called Bruce, but already her focus was on change.
It was the first in a line of public statements that focused on teaching the public not just about herself, but about trans people in general. "Have an open mind and an open heart," she told Americans watching the program.
2. She revealed herself on the cover of Vanity Fair.
Though Jenner had already come out, the introduction of Caitlyn was in and of itself an incredible moment. In a Vanity Fair cover story (as shot by Annie Leibovitz), Jenner opened up about becoming and accepting herself as Caitlyn.
"I'm not doing this to be interesting. I'm doing this to live," she said. Jenner also directly addressed criticisms that she was doing I Am Cait for celebrity or publicity. "I'm not doing it for money," she added. "I'm doing it to help my soul and help other people."
3. She began living openly as Caitlyn.
Soon enough, Jenner began helping others simply by living. As friend Laverne Cox noted recently, Jenner's life is swarmed by paparazzi constantly. This is dismaying, but not surprising; Jenner's story is the biggest pop cultural event of the year. The scrutiny is intense, but she handles it with grace.
It can't always be easy, either. As Jenner started slowly making more public appearances, attention to her looks became headline news on blogs and in tabloids. During the ramp-up to her appearance at the 2015 ESPY Awards, Jenner could have been overwhelmed or become testy.
Instead, she rose above.
4. She gave an incredible speech at the ESPYs.
Even just the slightest bit of hindsight on Jenner's ESPYs speech has made it resonate all the more. It feels — and even felt in the moment — like an iconic moment. Thank Jenner for that; she has consistently shifted focus away from herself and onto other trans people. To do that at a venue like the ESPYs, when accepting an award for courage, truly made Jenner's speech exemplary.
"For the people out there wondering what this is all about, it's about what happens from here," she told the audience both in the venue and watching at home. "It's not just about one person. It's about thousands of people. It's about all of us accepting one another."
5. Here's what's next:
In the final trailer for I Am Cait, a makeup-free Jenner makes a plea to herself. "I just hope I get it right," she says. She's not talking about the show, nor about her own image. She's incredibly aware her moment in 2015 is not just about her. It's about millions of people out there who need heroes.
That's what Jenner is, plain and simple. She's a hero using her platform to raise awareness of how hard it is to be trans in America. She's opening doors for other trans entertainers, particularly ones of color. So far, her journey has been excellent and life-affirming. We've got nothing but the highest hopes that she'll continue her great works on I Am Cait.
The show premieres Sunday at 8 p.m. on the E! network.