Donald Trump Revealed His Net Worth, Here Are the Fun Facts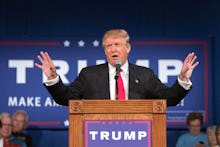 The sources of Donald Trump's immense wealth have finally been revealed after the Federal Election Commission released a financial disclosure form Wednesday that was as over the top as the bombastic presidential candidate himself. 
The 92-page document laid out the extent of Trump's global empire, highlighting the expected and sometimes bizarre ways the Republican Party contender has made money over the years. While his true net worth is unclear (the commission requires candidates to list assets in broad categories, meaning assets worth over $50 million get lumped together), the documents give an indication of how much Trump is really raking in. 
Here is what we learned about Trump from his financial disclosures:
Trump is worth at least $1.35 billion. That number is much lower than Trump's stated $10 billion net worth, however it would be impossible to determine the actual figure. Many of the assets and liabilities are reported as ranges, which are capped at $50 million. 
Trump owes more than $50 million in loans. They include mortgages on several Trump buildings, including Trump Tower, the Trump Building at 40 Wall Street and the Trump International Hotel and Tower in Chicago, according to USA Today. However, Trump's hotels management company has been valued at more than $50 million.
Trump's myriad investment interests. Mattresses, vodka, golf courses and energy drinks are a few of Trump's many business ventures. He nets about $588,000 a year from the Trump Carousel in New York City's Central Park, Bloomberg reported. 
He made a modest $15,000 from coffee. Trump has a deal with Two Rivers Coffee, based in South Plainfield, New Jersey.
He's a hot-ticket public speaker. Trump did seven paid speaking engagements since May 2014 that earned him a total of $1.75 million. Most of those bookings were by the international marketing company ACN. Trump has appeared at several ACN training events. 
He inflated his reality show earnings. Trump had previously claimed that he made more than $213 million from 14 seasons of The Apprentice, however the documents showed about $4 million in revenue and only $14,000 in salary from the show, CNN reported. 
Trump was always a rich man. Trump's father, Fred, was worth an estimated $250 million to $300 million from his real estate developments, and Trump got a generous slice of the pie, the documents confirmed. 
As the documents showed, Trump's financial footprint is worldwide. The real estate mogul-cum-reality TV personality has business ventures in Brazil, China, Dubai and South Korea. His name is on some 515 organizations, which list him as everything from a member to director, partner or president.