Donald Trump Visits Mexican Border and Doubles Down on Pledge to "Win the Hispanic Vote"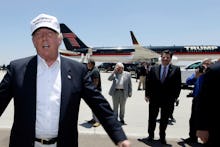 Donald Trump delivered a press conference from the U.S./Mexican border Thursday, once again denouncing the threat posed by undocumented workers but confidently predicting wide support from Hispanic voters.
"I think I'll win the Hispanic vote," Trump said at a press conference in Laredo, Texas. "I'll bring the jobs back and the Hispanics are gonna get those jobs." Trump also reiterated his belief a frontier wall should be built between the two countries to deter illegal immigration. "There's great danger with the illegals," he said. "The wall will save a tremendous amount of money."
Trump also spoke before an enthusiastic audience of local law enforcement officials where he praised their efforts to defend the border and criticized the national media. 
Before his remarks, Trump toured a section of the U.S. border near the city of Laredo. The trip began on a controversial note when the Local 2455 border patrol union announced they would not participate in the event after previously agreeing to. 
"After careful consideration of all the factors involved in this event and communicating with members of the National Border Patrol Council at the national level," chapter president Hector Garza said in a statement, "it has been decided by Local 2455 to pull out of all events involving Donald Trump. Make no mistake, our border with Mexico is not secure and there's no doubt that we need to have an honest discussion about that with the American people."  
Never to be "out-statemented," Trump responded the same day:
"It is unfortunate the local union of Border Patrol Agents received pressure at a national level not to participate and ultimately pulled out of today's event. They are being silenced, and are very unhappy about it, as told directly to Mr. Trump."  
The press conference was only the latest stop on a Trump campaign train that so far has shown no sign of slowing down. On Tuesday, the billionaire Republican frontrunner exploded into Bluffton, South Carolina, to deliver an address in which he denounced his rivals and highlighted his own fabulous wealth. 
During the diatribe, Trump accused Republican rival and former Texas Gov. Rick Perry of wearing glasses "so people will think he's smart." Trump also responded to another rival, South Carolina's own Sen. Lindsey Graham, calling him a "beggar" and releasing his cellphone number into the crowd.
The Texas event unfolded against a Republican Party increasingly powerless to rein in their leading candidate. In an interview Thursday with the Hill, Trump openly threatened a third-party run, saying it was "absolutely" a possibility. 
"If they're not fair, that would be a factor," Trump said. "The RNC has not been supportive. They were always supportive when I was a contributor." 
Earlier this month Trump rebuffed a call by GOP chief Reince Priebus asking him to tone down his language toward illegal immigration. Verbal gaffes targeting Mexicans or questioning John McCain's status as a war hero that would sink a normal candidate have only bolstered Trump's poll numbers. 
With his status atop the polls, Trump will no doubt be the man to beat, as all eyes turn toward the candidate's first debate next month.