Meet Quentin Miller, the Reason Meek Mill Is Calling Out Drake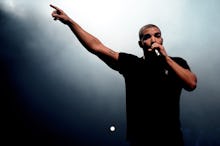 Rumors that Drake has been using a ghostwriter to help him churn out his emotional hits have been swirling since Wednesday morning, when fellow rapper Meek Mill tweeted the Canadian songwriter doesn't actually write all of his verses himself. 
These shouldn't be considered rumors. They are facts. Drake doesn't write every single one of his hits by himself. In fact, he gets quite a bit of help from several other rappers and songwriters on many of his most famous hits.
Flunk Master Flex put Drake on blast Wednesday night when he played Drake's popular "10 Bands" over the airwaves for the New York radio station WQHT, but something was eerily different (yet all too familiar) about the version Flex played: The track was being rapped by Quentin Miller, an Atlanta-based rapper. 
Check out Miller's "10 Bands" that was played:
Here is Drake's version of the song, with some obvious similarities in both versions. 
The first is a reference track provided by Miller for Drake to use in his recording of the single, which is on his latest album If You're Reading This It's Too Late. Miller is a close friend to Drake's OVO family, appearing in multiple pictures with the artists from Drake's camp on Instagram.
Miller is credited for writing five of Drake's latest hits on his newest album, including "10 Bands," "Know Yourself," "Used To," "No Tellin'" and "6 Man." What's more, is that Drake even thanks "QM" in his long dedication note included in the album.
Although Drake has never outright said he hires other writers to aid him in his raps, the proof is in the pudding: Miller is credited on Drake's songs, just as others have been in the past.
Still, the rumors continue to swirl.
It doesn't necessarily seem fitting that Drake would credit Miller for only some of the songs he was involved in writing, but it's understandable why fans may be upset to hear that Drake isn't the sole lyricist behind his emotional raps. 
However, he isn't the only soulful artist to have benefitted from the help of fellow songwriters. "Irreplaceable" arguably one of Beyoncé's most popular hits, was written by singer/songwriter Ne-Yo. Rihanna's "Diamonds," as well as just about every single other pop hit you've heard on the radio, was written by Sia. Plenty of famous performers have received help from other artists and songwriters to make some of their biggest hits.
Miller isn't just a "ghostwriter," however. When the rapper isn't writing hits for Drake, he's working on his own freestyle, performing in a duo with Coollsmac called WDNG Crshrs. Their latest track called "Poppn," was released just before the Drake's ghostwriter rumors engulfed Twitter. 
Source: Soundcloud
Miller, who has remained silent on social media since the storm of rumors began Wednesday, has received a massive amount of attention online since his name has been thrown into the spotlight. Whether he'll use it to further his career or Drake's is still unclear. 
And Drake, who continues to receive the brunt of these rumors floating around the music industry, doesn't seem to be phased by any of it at all. In a private message over Instagram, Drake responds to a fan showing his support for the rapper through the rumors: